To address your audience directly, there is no better channel than email. Here, you will discover not only how email benefits your business, but also how to build your email strategy and turn leads into customers.
1. The benefits of email marketing
Email campaigns have been one of the best ways to reach customers for years. By incorporating email into your marketing, you are not only choosing an extra channel, you are directly contacting your visitors and customers.

Some advantages of email marketing:
Everyone with any kind of online presence has an email address. With email marketing, you collect valuable data in exchange for useful information. People are happy to give their contact details if they know they will get value in return.
Since collecting qualitative data becomes so easy with email, you'll reach a much larger audience. Not only interested leads, but also possible partners, suppliers, people on the fence and everyone in between are part of your database.
The numbers also confirm people's preference for email. Internal research shows that 70% of email contacts prefer email to other channels for commercial messages. Moreover, email marketing campaigns yield an average ROI of 122%!
One of the most important reasons that people like to receive email is convenience. Instead of having to look for information and offers yourself, they just drop into your inbox.
What kind of information will your contacts share with you? Everything. Email marketing is easy to adapt for every type of communication, every stage of the funnel, every question your lead, customer or visitor has.
With email, you get the cheapest and most effective way to deliver your message to customers. Two benefits for the price of one.
Moreover, you can measure email's effectiveness in detail. Other channels often only offer an overview, but with email you can see in detail what recipients do with your message and you can easily respond to it. This way, you offer each contact exactly what they need.
Consistent and high-quality emails will help you build a personal connection with your recipients. People easily return to a brand they interacted with before and you always stay top-of-mind thanks to your consistent presence in your recipients' mailbox.
Finally, you transcend sales thanks to that personal connection. You don't just sell. You help. Your brand transforms from a company where someone buys something to a partner who is always ready to lend a helping hand. In return, contacts are happy to share positive experiences and reviews when asked.
Email marketing is packed with benefits. Are you enjoying them to their fullest in your own email marketing?
2. Why your emails need a strategy
Email has been proven effective many times over, but that does not mean you should start sending emails to your entire contact database at random.

It is important that you think your email strategy through. Who do I want to reach? What do we include in our newsletter? What flows do we need? What should our emails look like?

These are all crucial questions when drawing up your email marketing plan.
Moreover, it's also best to make sure that you do not copy other companies' strategies. Not only does each audience deserve a tailor-made approach, using a creative and innovative approach will help you stand out from the competition.

This creative approach does not stop with the content of your emails. Once your design is up to scratch, you can redirect your creativity to how you deal with data, content, different email clients... So you can adapt every aspect of email to your preferences.

And other companies know that too. To make sure you stand out from the rest with every email in every inbox, a plan that fits your business goals is indispensable.
3. Draw up an email strategy
Making a good plan, whether it is for your emails or for something else, takes roughly 4 steps:


Analysis: what is there now?
Setting goals: where do we want to go?
Determining target groups: who do we want to reach?
Defining implementation: how are we going to do it?
Analysis
Why?
To know where to go, you must first know where you are now. What results are you getting now? How effective are the channels you're currently using? Where do you position your company in the market? Where does email marketing fit into your business? You will answer all of those questions and more in this first step.
Way of working
Chances are that you already have some internal processes to track and analyse results. It is best to include these for a complete picture.

Do not forget to include your overarching marketing plan and business strategy. That way, your email marketing strategy will seamlessly fit into the bigger picture.

Lastly, the following types of analysis will also help you along.
SWOT analysis
You are undoubtedly familiar with this classic. With a SWOT analysis, you examine the strengths, weaknesses, opportunities and threats of your company. You'll get a strong picture of your position in the market and learn exactly what parts of your company deserve the most attention.

It is best to repeat this exercise at regular intervals. After all, the market and your business are always evolving and you want to rely on recent data for any strategy you draw up.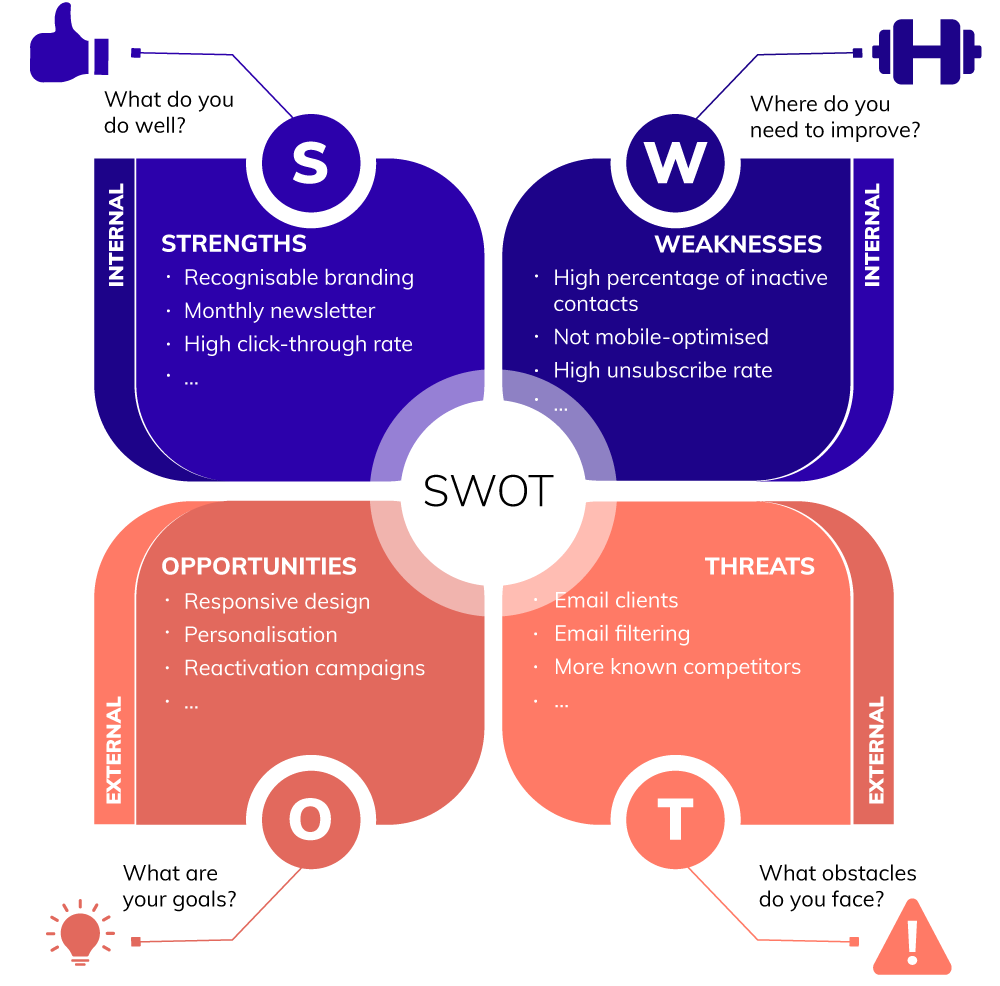 Competitive analysis
How do your competitors operate? What audience do they appeal to? What branding do they use?

You can learn a lot from how your competitors operate. You can view them as both inspiration for new ideas and as examples for how to make your brand stand out from the crowd.

Moreover, this analysis provides a clear picture of what the market looks like and what your audience might expect.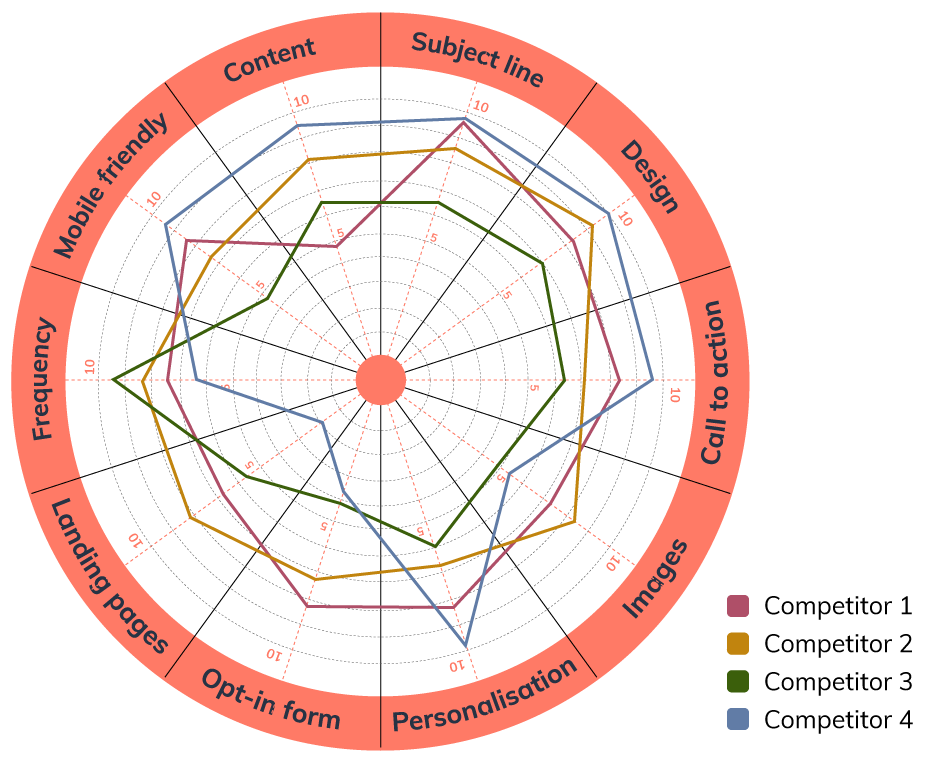 You'll learn a lot by subscribing to direct competitors' newsletters and studying them carefully. What time do they send? How do they design the subject line? What kind of design do they use? No detail is too small to be valuable.
Setting goals
Why?
Now that you know where you are, you can determine where you want to go. By setting concrete and measurable goals in advance, you will have the opportunity to make timely adjustments along the way and clearly monitor your progress.
Working method
With your analysis in hand, ask some more targeted questions:


What products or services do we want to promote via email?
Which target groups do we want to address with which message?
What concrete goals do we want to achieve per target group?
How can we measure our goals?
What forms of email communication do we use?
Where do we get the content from? Are there special occasions like a new release or a celebration?
How often do we want to communicate?
SMART goals
Like the SWOT analysis, the SMART goal is undoubtedly familiar to you. This way of formulating goals helps you to be concrete and to set useful goals.

In short: what is a SMART goal?

S - Specific
What and who exactly do you want to achieve? What do you need to achieve it? The more specific your goal is, the easier it is to monitor your progress.

For example: we want more interaction from target group 1

M - Measurable
Whatever your goal is, it must be measurable. If it is not, you never know when you have reached your goal or how far you still have to go. Making goals measurable in a business context is usually done with KPI's.

For example: we measure in click-through, number of opens, decrease in unsubscribes

A - Acceptable
It is much better to achieve goals that everyone agrees with and that provide value to your contacts.

For example: we want to help contacts to find their ideal solution faster

R - Realistic
Can you achieve your goal within the parameters you set? Make sure your goals are not only ambitious, but also attainable and feasible.

For example: we want 20% more click-through

T - Time-based
Finally, it is important to set a deadline for when we want to reach our goal. This also helps us to better capture growth and to get a realistic picture of our performance.

For example: we want to see the first results within 3 months. We will make regular adjustments based on data analysis and then set new goals.


A final SMART goal could be:
We want to see a 20% increase in the click-through rate for target group 1 in a personalised product campaign by the end of the quarter.
Different types of targets
By and large, your email goals are in service of your bottom-line goals, the business results your company wants to achieve. We roughly distinguish 2 types of goals in your strategy:


Email targets
Bottom-line targets
Your
bottom-line goals are business goals
within your company, such as increased sales, fewer support calls, increasing brand awareness, up-selling and cross-selling...
Email targets
, on the other hand, are goals you want to achieve
within your email strategy
, such as a higher open rate, a decrease in unsubscribes, the number of shares through the tell-a-friend-function... They strongly influence your bottom-line.
You should only build an email strategy when you are
sure that email is a smart choice
to (help) achieve your bottom-line goals.
Identifying target groups
Why?
Now that you know the market better, you probably already have a clear picture of your audience. By elaborating on that picture and perhaps even creating detailed personas, you will soon reach your audience much more effectively.
Way of working
Take a look at your analysis and objectives. Based on the figures and conclusions you already have, answer the following questions:


What does our ideal reader look like? Are we already reaching them?
Who is already receiving our content? Current/potential customers, press, bloggers, employees? Are they all still relevant?
Who is not yet receiving our content that we want to reach? How do we convince them to subscribe?
What does each target group expect from our communication?
What questions, problems, needs, interests... does each target group have? How do we respond to them?
What channels and search preferences does each target group have? Do they prefer mobile or desktop, many or few images?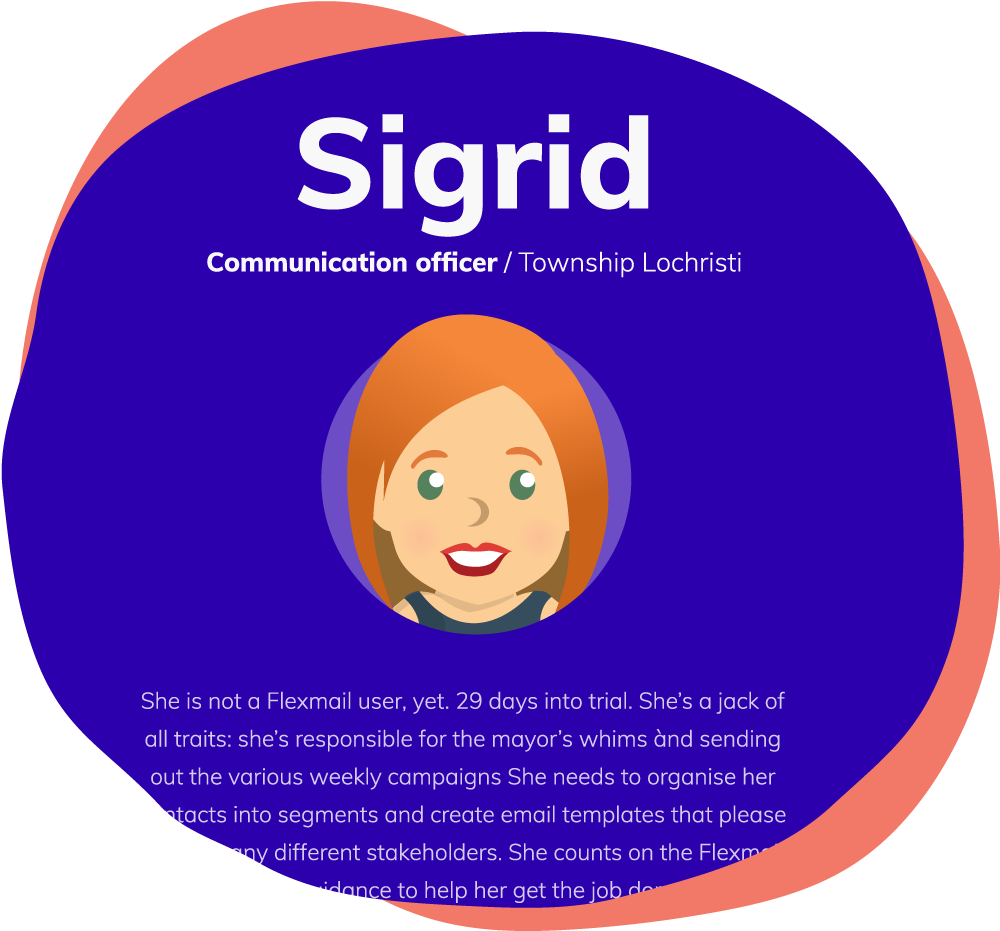 Answer each question for every objective you set in the previous step. This will not only help you determine your most important target groups, it will also help you when you are ready for segmentation later on.

Moreover, it will help you to easily personalise your content to keep your customers happy. Sending the same email to your entire database is no longer a best practice. Personalisation is key.
Mind this!
Your recipients have different characteristics and needs depending on where they are in the sales funnel. When working out your audience, take into account how well they know you, whether or not they have already bought from you and what kind of information they need in any case.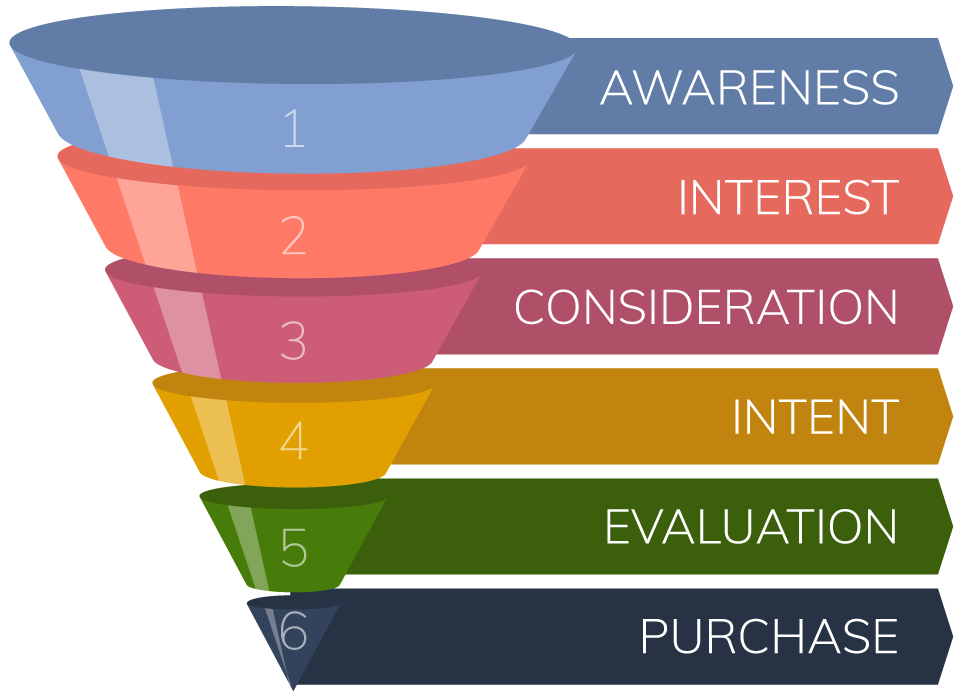 Communication strategy - implementation
You know what your current situation is, where you need to go and who you want to reach. Time to get to work!
General implementation
Before we look at email creation in detail, let's examine which tools we use to tackle our overall strategy. You do this by bringing in your SMART goals and listing the possible approaches for that goal.


SMART target
We want to see a 20% increase in the click-through rate for target group 1 in a personalised product campaign by the end of the quarter.
1. Expanding the target group
We have a clear idea of who we want to reach, so we want to appeal to as many people as possible in each specific target group.

How do we collect more data from relevant contacts? How do we expand our target group?

Make a list of all the ways we can get started:


Entry form
Opt-in
Pop-up forms
...
2. Identify types of email with the highest click-through
Once you have decided what kind of data collection you want to use, choose the type of email that will logically follow it:
Promotional mails
New products, services, ebooks, white papers, webinars, coupons...
Transactional mails
After a form submission, an order, a reservation...
Product information
Weekly or monthly updates on product information and new features
Digital magazines and newsletters
Exclusive value in the form of a deliverable
Co-marketing emails
Common products, events or promotions from 2 different brands
Internal updates
Internal newsletters to employees about product updates, new promotions, events, training...
Lead nurturing emails
Relevant and targeted content to strengthen the relationship with your customer or lead
Invitations
Collecting registrations for an event
Surveys
Gauging opinions and interests
Upsell/cross-sell
Additional or related products after completion of a purchase
Themed mailings
Based on occasions such as Christmas, New Year, Valentine's Day, Mother's Day, confirmation parties... or seasonal
Detailed implementation
Once you have determined the general approach for your mailings, you can start with the details: frequency, visual identity and calendar.
1. Frequency
How often you want to send your target group certain types of emails strongly influences how you proceed.


Would you like to email monthly, weekly or with a different frequency?
Which workflows are relevant for this target group?
How many emails does such a flow contain in order to optimally help your contact?
The most important thing is to
maintain a healthy balance
. You want to stay top-of-mind with your contacts, but you also want to appear fresh and attractive by emailing at the right moments. If you send too few emails, your customers will lose sight of you. If you email too much, they will get tired of your brand.
Finally, there are best practices, but it's best to
test them
to find out which moments suit your audience best. In doing so, you take into account two important things:
How often do your contacts want to hear from you?
What can you sustain as a company?
You then make this exercise for each target audience and for each flow you want to establish. After all, not all flows are the same. And
consistency
is key. As long as your contacts know exactly what to expect, they will love every message.
2. Visual identity
How your emails look is important for different devices, email clients and even goals.

You want to make sure that when your contact opens your email they immediately know it is you, but also what kind of content they can expect.

Moreover, each email client emphasises different elements and desktop shows a different view than mobile. It is therefore crucial that your email is attractive everywhere.

Pose the following questions:


What does each type of email look like visually? Brand colours, structure, scannability, images, buttons, labels (e.g. a label '50% off' on a certain product), link colour, type of call to action...
Can we handle the design in-house or should we outsource it?
Which designs fit every mail client and every device? (Responsive design)
Which sender data do we choose? Address, subject line, naming...
3. Calendar
You have clearly defined your goals, you got to know your audience inside and out, you know what each email looks like and you set up a flow. There's only one thing left: planning. With a clear and structured calendar, you'll always send the right message at the perfect time.

In this calendar, you not only plan when you send out which content, you also create a clear overview of important moments for your company. That way, you'll always be on the cutting edge with emails about important topics, special events and more.

It is also best to use other channels to get your message across. These should also be included in your calendar for a clear overview.
4. Multichannel strategy
Your calendar not only contains your email planning, but also that of other channels. It is a good idea to expand your consistent messaging throughout your overall marketing plan across all channels on which you are active.

The benefits of a multichannel strategy:


One channel reinforces the other, especially when we look at how social media and email interact
Social media buttons in your emails invite interaction. Make sure you add follow buttons. These generate permanent followers, while share buttons only invite a one-time share. You can expect more shares from followers who enjoy your content on social media.
Social media channels reach more people and your messages may even go viral
With social media, you are in closer contact with your followers, which means you can better build loyalty and added value
You don't need address data to reach followers on social media, but you can gain a lot of new subscribers from social media
The efforts you put into building your email strategy, you can more or less also put towards your social media strategy. Each channel requires its own approach, of course, but you will see
the same priorities everywhere
:
Giving your visitor quality content
Building personal trust with visitors, followers, contacts...
Show that you have the ideal solution and lead to it
5. Evaluate & optimise
Thanks to your SMART goals, you know exactly when the time has come to look at your results. But you don't have to wait until the deadline has passed to make adjustments.

Determine some evaluation moments in advance and follow the path towards your goals. Ask yourself the following questions at each evaluation:


Are we making sufficient progress?
How can we optimise the campaign?
Where do we adjust the strategy to our new insights?
Why do contacts behave this way towards our messages? How can we influence it?
Your audience changes over time, so your
strategy
must
evolve with it
. By continually reviewing results, making adjustments, collecting new data and re-evaluating, you can be sure that every contact receives the high quality of communication you want to offer.
And that, of course, is always the most important thing.
Follow these tips and tricks for an email campaign your brand can be proud of.
6. Tips & tricks for an effective email strategy: a sneak preview
How to use the following tips & tricks in your email strategy for the best results, you'll discover throughout the 5-part masterclass.


Respect your contacts. We don't just throw our personal data around. Contacts share their data in confidence, so handle with care.
Provide interesting and relevant content. By showing your contacts that you want to help them in any way you can, you will earn their trust and increase the likelihood that they will seek solutions with you instead of competitors.



Be concise. Your newsletter doesn't have to be a novel. Instead, balance relevant copy with white space and related graphics to make your message as clear as possible.
Tell contacts what to do. Go to the website? Claim a discount? Follow you on social media? If you don't tell contacts what to do with your email, they probably won't do anything at all.
Use a real email address. Building a relationship with your customer is a crucial factor in your email marketing. And that much-needed trust you've read about so many times now, is heavily influenced by a recognisable sender. You don't have to mail with a personal address, but a no-reply@pleasedontsendmeanyemails.com does not invite interaction at all. Make sure your contacts can easily reach you through any email address you use to send them messages.
Never buy mailing lists! Although you will have a huge amount of contacts at once, your emails are almost guaranteed to end up in flooded inboxes, inactive email addresses or spam folders. If you do reach someone, the chances are slim that the contact is interested in a brand from which they receive unsolicited emails. Stick with contacts you know want your content for results.
Keep innovating. Keep your messages exciting for customers by using different types of content and designs. Stay recognisable, but keep it interesting.