In the previous modules, you designed a strategy, collected contacts, created messages and automated important flows. So you have already taken your first steps in email marketing and sent out your first campaigns. Time to start analysing, testing and optimising.

After all, one of the main advantages of email marketing is that you can let go of guesswork and substantiate every statistic. In this fifth and final module, you will discover exactly how to do that.
1. Why measure results?
The success of your email marketing starts with your plan. But your
market and your contacts are constantly changing
, so your strategy has to as well. And what adjustments you need, you will find out by measuring, testing and analysing.
By tracking your results, you no longer have to guess at your audience's preferences or how they interact with your messages, you can
back up every decision
. Even negative results are positive, because you use them to make positive changes to your next campaigns.
During slow periods, reserve enough space in your diary for analysis. Set up some tests to help you make decisions in adjusting your current plans and drawing up new ones. The following questions will help you get started:
What went as expected over the previous period?
What worked exceptionally well?
What did you get no or hardly any reaction to?
Where did anything go wrong?
What could you have done better?
Where did you miss opportunities?
Do you see differences in campaign results? And if so, what are the differences in those campaigns?
Do you see differences per target group?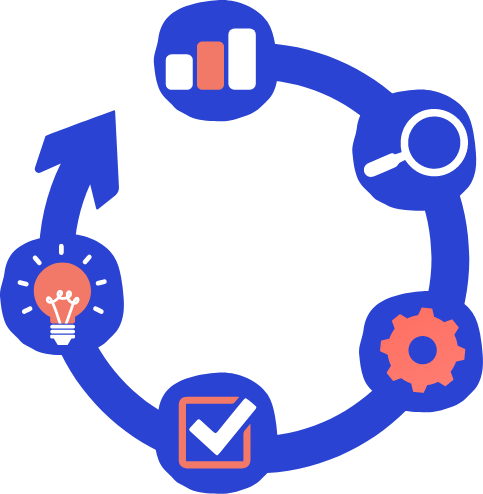 But what you really want to know is whether all your efforts are worthwhile. Do they deliver something, like sales, downloads or other interactions? In other words: what is the
return on investment
of your email campaigns?
Because when it comes to email strategy, you can't lose sight of the
financial health
of your business either.
2. Roadmap
In order to analyse your results effectively, it is best to proceed in a structured manner. With the steps below, you'll reduce the chance of forgetting important elements and you rest assured that your analysis will be useful.
Step 1: Make a list of all campaigns
List all campaigns from the past year and note the goals you had in mind for each mailing. What did you want to achieve with your email? What action were you trying to encourage your contact to take?

For each goal, you also formulated KPI's or key performance indicators that help you measure if and when you achieve your goals.

To create a complete picture, include not only your manual but also your automated workflows in your list.

In addition to your goal, it is important to include the following elements in your analysis:


Subject line & preheader
Design
Sender details
Timing & frequency
Personalisation
Target group or segment
Step 2: Don't forget your content as a valuable source of information
Make room on your list for content analysis. In order to better attune your content to your target audience and goals, it is essential to know which content works and which does not. Once you have that, you have a good basis for your future content calendar.
Step 3: Make your goals measurable
Formulate your goals according to the SMART-principle. To be able to analyse the results of your email campaigns, the M (Measurable) deserves your attention the most. Think critically about whether what you measure really adds value to your ultimate goal.

You can read more about which indicators you should include in your analysis in the important statistics and KPIs section.
Step 4: Collect and select relevant statistics
By now, you have a solid overview of your campaigns and the measurable goals you wanted to achieve with them. But where do you get the input for your analysis? After all, you are looking for answers to a lot of questions. Do your emails reach the right contacts? Who opens your emails? How many of them click on the link in the email?

Of course, you also want to know where your contacts go after receiving your email. Therefore, do not limit yourself to an analysis of your email, but also look at the effects on your other channels:


Website
Social media
Landing pages
Forms
But
how do you collect
the necessary data for this? The most important possibilities:
A lot of information can be garnered from your own databases. Think, for example, of membership lists, data from completed forms or the number of likes or shares.
Various email/automation software programmes, like Flexmail, offer great statistics. They show you at a glance how often your email was delivered and opened, but also how many recipients clicked through.
Set up A/B tests, including a control group. You compare, for example, the sales results of contacts who received a certain email with those who did not.
Finally,
select
only the statistics you need for the result you want to measure. Maybe you only want to measure the effect of one specific email? Or do you want to compare the reactions of two different segments?

Step 5: Perform your analysis and draw conclusions
You have now reached the point where you have gathered a wealth of information. Of course, statistics remain just statistics if you do not study, compare and analyse them. So let's get to work with them!

Using a benchmark is always useful at this stage. A baseline gives you a frame of reference for comparing different campaigns.

It is crucial to carry out your analysis soon after you launch a campaign. Only then can you react quickly, work on details and adjust where necessary. A condition for quick analysis is that your own data infrastructure is in place and that, in the best case, you receive real-time results.

If all goes well, you now have a clear picture of the best and worst parts of your campaign, and you are ready for your new campaigns.
Additions to the Roadmap
By repeating the analysis at regular intervals, you can easily compare your results over time. Is this campaign performing better or worse than the previous one? What is the best way to make adjustments during the campaign period itself? What are the best opportunities for launching a new campaign?
What are your competitors doing? Just like with your initial strategy, it helps to look at competitors when reviewing your email marketing results. How did you do compared to them? Where do you stand in relation to your main competitors?

Make sure you see this as a method of getting to know your audience better and stay away from pitfalls such as copying your competition.
Other essential components of your email campaign are also necessary to achieve good results. Think of segmentation and personalisation, content, the structure and design of your email campaign, contact management and efficiency through automation.
3. Key statistics and KPIs
It is clear by now that you can learn a lot about your own email strategy by measuring and analysing the right performance indicators or KPIs (Key Performance Indicators). They tell you how successful your email campaign is, what works best for your target audience and what adjustments you can make to score even higher.

A good tip is to focus on the most important KPIs, as listed below.
Reception rate
The reception percentage indicates how many of your sent emails actually end up in the inbox of your contacts. It shows how well you succeed in reaching your contacts.

The reception rate also influences your email reputation as a sender, so it can only benefit your email reputation.

If your email is not deliverable, it is usually due to one of these 2 reasons:


The email address does not exist or is incorrect. Your email cannot be delivered and will result in a so-called 'hard bounce'.
Your email ends up in the spam folder. In other words, your email does not survive the spam filters. Their job is to protect inboxes by detecting unwanted emails and keeping them out. To do this, they use a long list of criteria, the most important ones of which are:
Reputation of the sender's IP address and domain
Quality of the subject line and content of the email
Quality and safety of links in the email
Proportion of images to text and links in the email
Recording a text version of the email
Whether the email is opened by the recipient
Amount of time a recipient takes to read the email
Whether the recipient scrolls all the way down in the email
The recipient marks certain email as spam
Which markings the recipient adds to emails
In which folders the recipient saves emails
Tips to improve your reception rate
Keep your hard bounce rate, i.e. the percentage of undeliverable emails, below 1%. To do this, carefully update your mailing lists by systematically deleting non-existent and incorrect email addresses.
Work with a double opt-in. If you ask a new contact for permission to use their email address twice, you are more certain that they are indeed interested in your emails.
Never buy mailing lists. They have a poor return on investment. Chances are you will only reach uninterested people and they will mark your email as spam.
Pay attention to your spam complaints. Prevent recipients from continuing to report your email as spam by turning complaints into unsubscribes. Better one fewer contact than one too many spam complaints.
Outsmart the spam filters. You already have a good chance of doing this by delivering high-quality content and with professional formatting you start off strong, but that's not all. Pay attention to your subject line and avoid typically misleading spam phrases such as 'free today only' or 'open now'. Also keep in mind the list of criteria that spam filters follow.
Carry out spot checks to see whether your emails end up in the inbox or the spam folder. In specific software programmes for email/automation, like Flexmail, you can easily find this information. It also gives you an indication of the state of your email reputation.
Open rate
Besides the influence on your email reputation as a sender, the open rate also speaks to the effectiveness of your email marketing. Because after all the effort you put into preparing your email strategy down to the last detail, you obviously want your contacts to read what you have to say.

The open rate is calculated by comparing the number of delivered emails with the number of recipients who open the email.

The percentages vary greatly depending on the sector. On average, you can consider it a success if your open rate exceeds 18%.
Tips to improve your open rate
Create the right expectations from the start. Your recipient has an idea of what is in store for them if, when they sign up, they already know how often and when they will receive your email messages.
Sending relevant and interesting content obviously increases the chance that your recipient will read your email and therefore open it. Make sure to put the most important information at the top of your message. Many recipients will first read the preview and only then decide whether to open or ignore your email message.
Make your email recognisable. By using the same style each time, contacts will notice your emails more quickly in their often overflowing inbox. Leaving a clean and professional impression builds trust.
Consider unsubscribing contacts who do not open your emails several times in a row. Use Google Analytics to track these contacts, but don't fool yourself. Your open rate will skyrocket, but the number of opened emails, or in other words the number of contacts reached, will remain the same. Do you also want to increase the number of opens? Then prepare your mailing list and increase the frequency of sending. Always do this in a qualitative and well-considered way to avoid negative effects on your open rate. It is certainly a challenge to keep finding the ideal balance.
Run A/B tests to see what works for your target audience. Experiment, for example, with:

The length and content of your subject lines
Using emojis
Different forms of personalisation
Shipping dates
Click-through-rate
Now you know the delivery and open rate of your email. The next step is to get your readers to click on the link in your email to your website, form, blog... The goal of your email is ultimately to persuade them to take this action.

The number of clicks generated by your email campaign in relation to the number of opened emails is the click-through-rate or CTR.

An average CTR is around 14%, but this statistic, too, is highly dependent on your sector. If your email campaign is aimed at consumers, a CTR of 5% could be great.

A low CTR is an important signal that your call to action and segmentation may need to be optimised.
Tips to improve your click-through-rate
Pay attention to the layout and language of your message. Deliver your message in a structured and understandable way and make sure the recipient immediately understands what it is about. Make your text scannable by using paragraphs, bullet points or bold to highlight parts of your text.
Use one clear CTA button. Avoid too many choices that lead to choice overload or a feeling of being overwhelmed. For best results, put the call to action at the top so the reader doesn't have to scroll to take action. Buttons are user-friendly and eye catching, especially for smartphone users. Vary the colours and text of your button.
Make sure your link is formatted correctly and leads to the landing page you want the reader to visit.
Choose a responsive design that automatically adapts to the device used. Almost half of all emails nowadays are opened on a mobile device.
Vary your shipping moments and learn from them. This is easily done with an A/B test.
Conversion rate
What conversion means to you depends on the objective of your email campaign. For example:


Sales through your webshop
Subscribe to your newsletter
Download your white paper
Like or share your social media post
Link to your blog
How many of your contacts convert is your conversion rate. This parameter is a reflection of the
final return on investment
or ROI of your entire email campaign.
Tips to improve your conversion rate
Create a clear and attractive added value. Your reader has to feel that your offer is especially for them. Emphasise what their advantage is, why it is interesting for them or how they benefit.
Make contact with your reader. It should not be a one way street. Explain your message as you would to a friend. Use conversational language and avoid jargon and complicated language use.
Limit distracting factors such as visual elements or unnecessary content. Your visitor will automatically focus better on the actual purpose of your email.
Make sure you have the necessary tools to quickly monitor and analyse your conversion rate. With Google Analytics, you can see to what extent certain mailings contribute to your various conversion goals. If you do not reach the set conversion percentage for your email campaign and your ROI for this campaign is therefore not good, take action quickly and make adjustments where you can.
4. Other statistics
In order to measure the success of your email campaign, the general KPIs mentioned above already go a long way. But they are only really meaningful if you can compare the rates of different campaigns with each other.

These other statistics are directly linked to the success rate of your email campaign. Often you will have to rely on your own databases. It goes without saying that they have to be updated carefully and periodically.
Statistics
Calculation
Growth rate of the database
On average, a quarter of your contacts drop out every year. With a larger database, you can reach more contacts via email marketing.
Unsubscribe rate per campaign
This calculates the percentage of recipients who have dropped out on the basis of your sent email. If this percentage remains below 1%, your campaign has been a success.
Customer lifespan
On average, how long does a contact stay interested in your email marketing?
Percentage of clicks to valuable pages
This is a variant of the CTR where only the clicks to the correct landing page are taken into account. In a successful campaign, this percentage exceeds 98%.
Virality of content
What is the content of your email worth? Content that goes viral significantly increases the reach of your email campaign.
Opens and clicks over time
In general, 70% of opens and clicks happen within 3 hours after the email has been sent. This statistic teaches you to find the ideal sending time.
Average value per receiver
This gives you insight into the return on investment of your email campaigns. Consequently, you can also derive from this how much you should invest to acquire a new contact.
Unsubscribe rate
This rate shows the number of unsubscribes after sending your email. The average unsubscribe rate is 0.17%.
5. Key tests
In module 3 we already underlined the importance of testing your messages. Now that you know how to analyse the results of your email campaigns, you probably understand better that you learn the most by comparing rates. By testing different elements, you collect comparable data to help you learn what effect the changes you make have on the behaviour of your contacts.

Always keep in mind when testing:


Never test more than one element at a time. For example, if you want to know the effect of two different images, make sure that the alt text and its position remain unchanged.
Also pay attention to the distribution of your mailing list. Make sure the population in both test groups is as equal as possible.
Elements that have a major impact (such as the sender of the email) should be tested as early as possible in the process.
Do not lose sight of your segmentation. Make sure that your segmentation is always up-to-date and conclusive. What works for one target group, does not work for another.
Make your test volume large enough to achieve significant results. Do not waste time on tests that are too small and will not provide useful insights.
This amount of useful information is easily bundled into a
best practice guide
for your entire team. A compendium of guidelines that work and are also the best basis for your entire email strategy makes it even easier to keep working optimally. Write down criteria for titles, subject lines, design styles, offers ...
Bear in mind that your contacts are constantly evolving and growing and that your competitors are also continuing to find their position in the market. The message is clear:
never stop testing!
Below you will find out which elements you can easily test.
Frequency testing
What is the ideal timing for your email campaign? Which day of the week? What time of day? How often do you send out emails?
Topic testing
What is the ideal length of your subject line? What type of subject line invites the right contacts to open the message? What is the effect on the open rate, the click-through-rate and the conversion rate?
Content testing
Do certain topics work better than others with your target audience? Which formats (blog article, webinar, white paper ...) do your readers prefer? Are your contacts fans of lists or do they prefer detailed written texts?
Format testing
What influence does the length of your email message have? Do columns work better? Do you tell your story with images or text? How do you package your call to action?
Sender test
From which email address is your email sent? Does your email arrive in the inbox and not in the spam folder? Does the sender work equally well for transactional and promotional messages?
Segmentation testing
Which communication is most relevant to which segments of your target group? How do you divide your segments? What is the value of the different segments within the bigger picture?
Image testing
Which images do you use? In what colours? And how many? Where do you place them in your email? What mood or emotion do your images convey?
Landing page testing
How do you describe your message here? What images do you use on your landing page? Where do you place the form? How many fields do you have to fill in? How do you phrase your questions? How do you place your call to action?
6. Optimise
Besides your KPIs, you can also easily optimise in less conspicuous ways. Before, you read that you can boost your open rate by removing inactive contacts. But wouldn't it be better to wake up sleeping contacts? And are you sending the ideal number of emails for your contacts at all?
Reactivate inactive contacts
This 4-step plan helps you decide whether or not to remove a contact from your mailing list.


Step 1: Launch a reactivation campaign
Stimulate your inactive contacts with an attractive action. For example, tempt them with an exclusive discount or a gift.
Step 2: Split your mailing list
Separate the contacts that did not respond to your reactivation campaign. Your list of active contacts will now be more accurate, giving you a truer picture of the success of your campaign.
Step 3: Send your campaigns to each list separately
Consider sending out your email campaigns at different frequencies. Update your lists each time depending on the response you get to your email campaigns. This way, an inactive contact can move to the active list. Be consistent and move in the opposite direction as well.
Step 4: Analyse your results
It is difficult to predict if and when a sleeping contact suddenly becomes active again. By analysing your results, you'll get a better understanding of the process and it will become easier for you to determine the period after which to remove dormant contacts from your mailing list.
Don't step into the trap of spending more time recruiting new contacts or boosting your inactive contacts than caring for your
loyal ones
. Do not lose sight of them. Nurture them and reward their activity with a nice offer now and then.
Optimise your frequency
How often should you send emails? There's no right answer. You want to stay top-of-mind with your contacts, of course, but you also want to remain welcome at all times.

Testing provides clarity here, but in general you can say that a contact with whom you have regular interaction also wants to receive more frequent emails from you. So it's a good idea to divide your mailing list according to frequency.

An additional advantage of more frequent email messages is that you can keep them shorter and more to the point, and spreading your content over multiple messages.
7. GDPR/Privacy
A final and crucial point of attention is the privacy legislation or GDPR (General Data Protection Regulation). Since 25 May 2018, the new European privacy regulation has been in play.

It stipulates, among other things, that people must specifically consent to the use of any personal data. This also applies to collecting statistics for your email marketing.

Therefore, state explicitly and clearly in your privacy statement what metrics you collect from your audience, how you do it and what you use them for.
Ready to get started as an Email Marketing Master? Good luck!
Hungry for more?
Then check out these additional resources