1. Collecting contacts
One of the most important reasons to use email marketing for your business is the trust you build with your audience. Unlike any other channel, you address each contact directly and personally through email.

It is also important that you fill your lists with relevant contacts who are enthusiastic about your content so that they want to share their details with you. Understandably, they are far more likely to do that when your content is relevant to them. These 4 steps will get you there.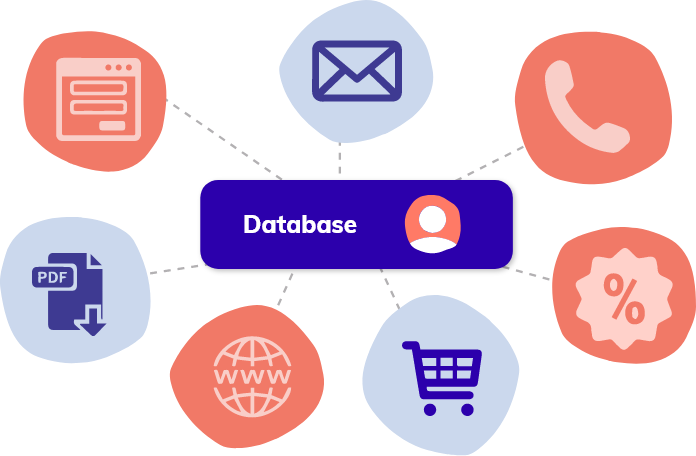 Generate traffic to your website
Before visitors subscribe on your website, they have to actually get there. So your first step is to optimise your website in such a way that your relevant audience will arrive there automatically.

Promote your website on different channels and make it as findable as possible in search engines. When potential visitors often see you on their social media or when they are Googling for solutions, then chances are they will perceive you as relevant more quickly.
Subscription form and opt-in
Once your visitors are on the website, it is important that you make their subscription as easy as possible. After all, you want them to be able to get back to work quickly instead of having to fill in an endless form.

With answers to the following questions, you can create the perfect subscription form for your business.
✓ What information should we ask for?
Initially, of course, you need their email address. But what other information do you ask for during the first subscription?

That is not an easy question to answer. A lot of information is important for segmentation, but ask for too much data and you run the risk of visitors not completing their subscription. Therefore, it is best to consider carefully which information is absolutely necessary for you to make contact with your visitor.

Do you want more and sometimes sensitive information for further contact? Then you can ask for it once you have established a relationship with your contact.

Our tip: only ask for information that you intend to use in the coming year. Not only can the rest wait, according to the GDPR you also need a good reason to ask for specific information. It's best to wait until you actually need the data you're asking for.
✓ Where do we place our form on the website?
As with the rest of your marketing, the answer here is: test, test, test. Integrate your form in different places on your website and see where most visitors sign up.

For example, are you giving away a valuable ebook to anyone who subscribes to your newsletter? Then it's best to wait for the right moment with your pop-up. Visitors want to explore your website, services, products and company values before they give away their data. Do you show the pop-up immediately? Then there is a good chance that they will simply close it and then have to look for a form themselves. So time your form well to increase the chance of subscriptions.

Moreover, the place where visitors subscribe is also valuable for segmentation. Visitors who sign up on the homepage will have different needs than those who sign up on a product or landing page.

Our tip: don't just provide forms for your mailing list on your website, but also in your emails and possible physical contact points.
✓ How do I make the form attractive?
Your form is now clearly visible and accessible. It is therefore important to make it attractive as well. Your form may be easy to find and fill in, attractive forms yield more subscriptions.

Go through this checklist for an attractive form to convince as many visitors as possible:


Choose an attractive design that suits your brand
Grab attention with a convincing title
Write copy that gets your visitors to take action
Make your copy relevant and clearly describe what they get out of a subscription (newsletter, download)
Reward sign-ups with a smooth follow-up flow, like a clear second opt-in and a warm welcome email
✓ How do I legally optimise my opt-in form?
In the past, you could fool visitors in all sorts of ways to get their data. While that was never a recommended technique, it has also become illegal since the introduction of the GDPR.
Double opt-in for GDPR
For your opt-in, GDPR means that you are required to send that second opt-in you previously read about to subscribers. It's not enough that they provide their email address the first time, they also have to confirm a second time that they want to receive your emails. Only then can you follow up with valuable content and interaction.
Double opt-in for your subscribers
Did you know that not only the law but also recipients prefer a double opt-in? They would prefer receiving a second opt-in 2.7x rather than a welcome email. An important factor to get right.

Remember to keep that second confirmation email as clear and simple as possible. A single call-to-action and clean, simple copy will convey your message clearly and help focus your contact. Then start with more extensive content.
Offer visitors something
Once visitors come to your website, you still have to convince them of the added value of subscribing to your emails. Therefore, it is not only best to make your subscription as clear and easy as possible, you should also provide your visitor with an incentive to subscribe.

This way, they are immediately rewarded for their subscription and you show them what kind of quality content they can expect from your mailings.

Some examples of these lead magnets:


E-books
Templates
Studies, analyses, research results...
Checklists
Whitepapers
Infographics and other visuals
Webinars, courses, training...
Tools
Discount coupon
Even if you don't have this content yet, you can still tempt visitors with a nice offer. You can easily make a good offer by
curating existing content into something new
. For example, you can slightly rewrite several blogs around a certain theme and pour them into an ebook or make a research more accessible by shaping it into a simple infographic.
The possibilities are endless.
A few tips for effective lead magnets:
Make your offer relevant to each stage of the customer journey, the path your customers take in their search for your product or service. That way, you give every potential visitor a reason to leave their details and get that valuable piece of content.
Remember to see your offering in the larger context of your business and marketing. Make sure it can be followed up with other relevant information, that you show a clear link to your paid solutions and that your subscriber clearly sees the bigger picture behind their gift.
Video content, infographics, clearly structured ebooks: whatever you choose, make your gift easy to consume. That way, subscribers are more likely to use it right away and to get to know the quality of your content.
Finally, for the same reason, it is also important that you offer a solution-oriented and applicable offer. The greater the chance that your subscriber will engage with it, the faster they will discover your value.
Sometimes you see offers such as raffling off an iPad among subscribers. You may collect a lot of new subscriptions with that, but are those people really interested in your product or service? Or will they unsubscribe as soon as you give out your prize?

Don't confuse an offer with a giveaway or contest. Where an offer plays on the relevance of your content for your visitor, a giveaway or contest leads to subscriptions purely for the reward. The subscribers are not interested in you, your services or your content, only in the reward they get.

If you do, carefully select your subscriptions to make sure that you do not fill your list with uninterested, duplicate or false subscribers. It is best to choose an offer that is really interesting to the people you want to reach.
Follow up
You have read before about the importance of following up on your first emails. It is crucial that you show your contacts that they made the right choice by giving you their email address. You want them to get to know you, trust you and open your emails.

The value of your contact list is only as great as the trust they have in you. The better the connection with your subscribers, the more they appreciate your quality content and the faster they convert.

Some rules for follow-up emails:


Give contacts valuable content from the first follow-up
Engage your contacts as a network and ask them to share their experience or even your content
Ask for a direct answer from your contacts every now and then to show that their opinion is important
Make membership of your list a pleasant experience, make contacts look forward to each mail
Be grateful for each subscription and show it with a personal touch and a warm welcome
Use the same voice that spoke to your contact on the website and through social media
2. Segmentation
Segmentation means dividing your audience into smaller groups based on similarities and specific characteristics. It helps you better understand your audience, streamline your marketing and build a specific strategy for each segment.

By segmenting your audience, you not only address the right audience on a larger scale, you also identify relevant subgroups within that audience. That way, your contacts get content that suits them to a T and you build your reputation.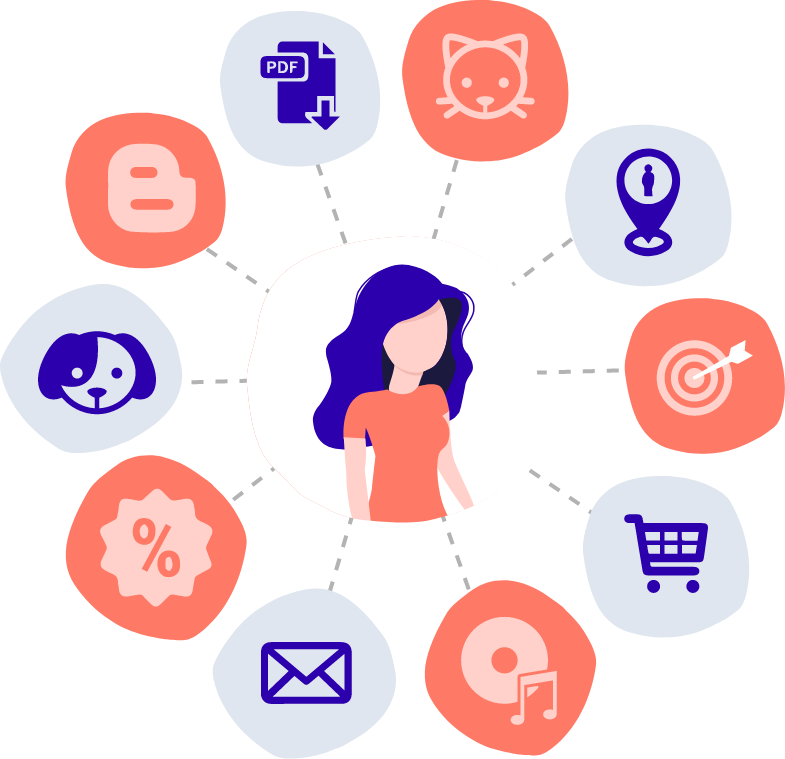 Why segment?
Segmenting makes you look at your business goals through a different lens. Although profits, sales and turnover are very important for your business, they are not everything.

When appealing to different segments, you'll re-discover the values, norms and vision that attract your visitors.

Moreover, you can also identify trends thanks to the behaviour of different segments. Who clicks on what? What kind of content do they prefer? What questions do they ask? You can learn from every detail.

A few advantages:


You are able to better and better predict challenges in certain target groups, making it easier to optimise your support and customer service.
The trust of your audience grows with each personal touch.
With a clearer distinction, it is easier to see who the best converting contacts are and why.
You get to know your audience much better than you could through other channels or more general mailings. You adapt your content better and improve KPIs like click-through, opens and shares. You will also see your retention improve.
Targeted campaigns help your brand awareness better than more general communication.
It becomes easier to optimise your communication by analysing when contacts drop out, take action, unsubscribe, share...
You can easily reach segmented contacts where they are. This applies to various channels, but also to retargeting.
Not only your marketing, but also your products and services can be optimised more easily by looking at the specific needs of your segments.
How do you segment your audience?
Now that you have a clear picture of the usefulness of segmentation, it is important to look at the basis on which you'll be segmenting. What works for one person may not work for you.

Which subgroups are important for you to distinguish? Which personas did you create? In which subgroups is it relevant to adjust your communication? You can approach segmentation from different angles.
Based on interaction & stage in the customer journey
New subscribers: welcome emails, setting expectations and introducing your business
Inactive contacts: send triggering emails that incite action, make clear what they have to do
Shopping basket abandoners: sending reminders and encouraging people to buy
Downloads from specific lead magnets: follow up with similar useful content as the lead magnet the contact subscribed to
Based on characteristics
Location: local actions, events and trainings
Interests: various themes such as favourite music, favourite marketing topics, trends, technology, sports, fashion, etc.
Demographic data: family situation, age and profession
Based on preferences about the content of your messages
News and alerts: news items, special occasions, discounts and promotions
Service and/or product updates: renewals of existing products, new releases, updated features
Trainings and events: education, training, special occasions, networking events...
Content and tips: blogs, FAQs, additional information...
How do you use your segments in mailings?
Here, you can clearly see why defining your target group was so important in Module 1: this way, you can easily provide your different segments with relevant content for each email you send.

Moreover, you can easily automate the entire process. New contacts are dynamically added to the right segment and thus immediately receive emails that are really relevant to them.

In addition, there are roughly 2 ways to adapt your mailings to your segments:


Global emails in which you personalise specific content (titles, links, CTAs...)
Personalised campaigns to specific segments
Analysing and adjusting results
As you read before, segmentation grants you very specific and detailed insights. By analysing them, you can make smart adjustments to your strategy at segment level from time to time.

For each subgroup, you can view KPIs that describe their interaction with your business, such as open rates, click rates and unsubscribes.
3. First aid for disappointing results
You segmented your audience, sent relevant content and your results are still disappointing? Then it's important to review your entire email account.

The following issues in particular require attention for many companies:


Bought lists: If you either bought lists or inherited bought lists from your predecessor, you can stop looking right there. Buying lists results in contacts who don't want your emails and who won't yield any desired results. It is not allowed under GDPR and will damage your reputation.
Big cleanup needed: even if you compiled your lists legitimately, things can go awry. Contacts who previously signed up may now have other interests. Preferences evolve in many ways.
Review segmentation: have you made your segments specific enough? Are you adapting your content sufficiently for each segment? Contacts may find your content too generic or irrelevant. Reconsider whether you are addressing them where it really counts.
Inactive contacts: some contacts sign up for a certain type of content and then lose interest. Maybe they found better content elsewhere or had a bad experience. You can rekindle their interest with specific invitations, requests for interaction or possible problem follow-up.
Filter useless contacts: contacts that you received through a competition or inactive contacts you cannot interact with after repeated attempts, are best removed from your list. This way, you keep your list clean and don't waste your energy on uninterested contacts.
Unsubscribes: in case of unsubscribes, it is best to follow up with a questionnaire to help you understand why contacts leave and how you can respond to that.
4. Tips
Now that you have your segmentation in place and know how to manage your contacts, you are ready to get to work on your database. And these tips will help you show your contacts how important they are to you.
Segment based on behaviour
Once your standard segmentation is in place, you can go one step further. By analysing the behaviour of your visitors on your website and social media, you can also segment based on that. See which products they visit and send corresponding promotions, retarget shopping cart abandoners with relevant products and more.

Moreover, you can also cleverly base your segmentation on interaction with your emails, e.g. who signed up in the last 30 days, who opened 5 of your most recent emails, who shared with friends, who filled in the form, who clicked on links a lot...
Reward loyal customers
Loyal customers contribute to your business, convince others of your expertise and convert. By rewarding them with customised content, discounts, loyalty programmes or more, you show them how important they are and encourage them to interact more.

You can also reward them by celebrating milestones, as you will learn in Module 4 - Automation. Birthdays, the anniversary of their subscriptions, the date on which they made their first purchase...

There is no more valuable approach and it shows: no other type of email has a higher click-through rate than one that highlights your personal connection.