In the email marketing world, sending generic, impersonal messages no longer suffices to catch your recipients' attention. If you want to stand out and get your target group involved, it is essential that you segment your contacts and personalise your emails to them.

In this article, we explore not only the benefits of personalisation but also the possible personalisation and segmentation strategies you can use and how these lead to more commitment, conversions and loyalty.
Dare to be personal
When we talk about personalised emails, perhaps you only think about your customer's first name at the top of your message or in your subject line. Personalisation is a lot more than this, however. Actually, you will focus on segmenting your potential market into smaller target groups by leading them through a concise and effective sales funnel.
The extent to which you will be personal depends on the types of emails you are going to send. In B2C communication, you will be focusing on a contact's interests. In B2B communication, it is important that your information is relevant for your contacts to be able to work efficiently.ormatie geeft die voor hen noodzakelijk is om efficient te kunnen werken.
The extent to which you will be personalising and which data you need for this therefore strongly depends on the types of campaigns you want to send.
Collect relevant data
In the course of time, you may have collected quite a lot of data from your contacts. Have a critical look at the data you have collected and which data you can use for personalisation.
When a contact is registered, you can ask for the name, date of birth and interests. If you have a web shop, you can also find much information there, such as the purchases your contacts have made, the products they are interested in, etc. You can use this data to propose new products to them.
Give the people what they want
You can save all relevant information for your email campaigns with your contacts. Once you have collected all information you need, you should save it to your database and sort it in the easiest way possible. This makes it easier for you to send the right campaigns to the right contacts and tailor these to their wishes and needs.
Use
Zapier
to add your contact data from other software programs to Flexmail automatically.
What can you segment?
To personalise your email communication, you need data from your contacts of course, which you can use to create segments. By basing your segmentation on this data, it will be much easier for you to send targeted campaigns.
It is worth knowing that by dividing your database into various segments, you can ensure that your contact data is always up to date. Why? Contacts can always check their personal data anywhere and adjust it if necessary. If something changes in your contact data and a contact no longer meets the conditions of a certain segment as a result, the contact will be placed in the right segment automatically.
You can't do personalisation without effective data management
You can subdivide segments into
various criteria
. The most important are the following:
Demographic criteria
These can be: gender, age, income, family composition, marital status, etc.
You can use this information for sending relevant content. Be careful, though, because you are asking your contacts for highly personal information. So first you need to consider if this data is really necessary for the content you want to send.
Geographic criteria
Another way of segmentation is on the basis of geography, such as country, municipality or province.
If you have several branches, for example, it might be very interesting to know where your contacts live, so that you can provide useful information about a branch near them.
Psychographic criteria
The information you receive directly from your contacts is the most valuable to use. Ask them about their interests, what they want to receive and what they need. This will help you send the right message and keep your contacts interested.
Behavioural criteria
Behavioural criteria are another important type: Which emails do your contacts open? Which links do they click? Et cetera.
Do not forget that your contacts' interests change in the course of time, so make sure this data is kept up to date at all times. Five years ago, a young mother clicked a link to baby items, but this does not mean she is still interested in these items now that the baby has grown into a five-year-old.
In addition to these four segmentation types, there are many other possibilities and criteria by which you can segment. If you want to know more about these, go to
all segmentation types for email marketing
.
Segmenting efficiently
Segmenting efficiently is a crucial step to personalise your email campaigns afterwards.
Set clear objectives
Define clear objectives for your campaigns. This could be promoting repeat purchases, encouraging commitment to new products, or sharing valuable content. By having specific objectives, you can adjust your segmentation to these better.
Identify relevant segmentation criteria
Analyse the collected data to identify relevant segmentation criteria, such as purchasing behaviour, interests, demographic characteristics or even behavioural data, such as interactions with your emails or website.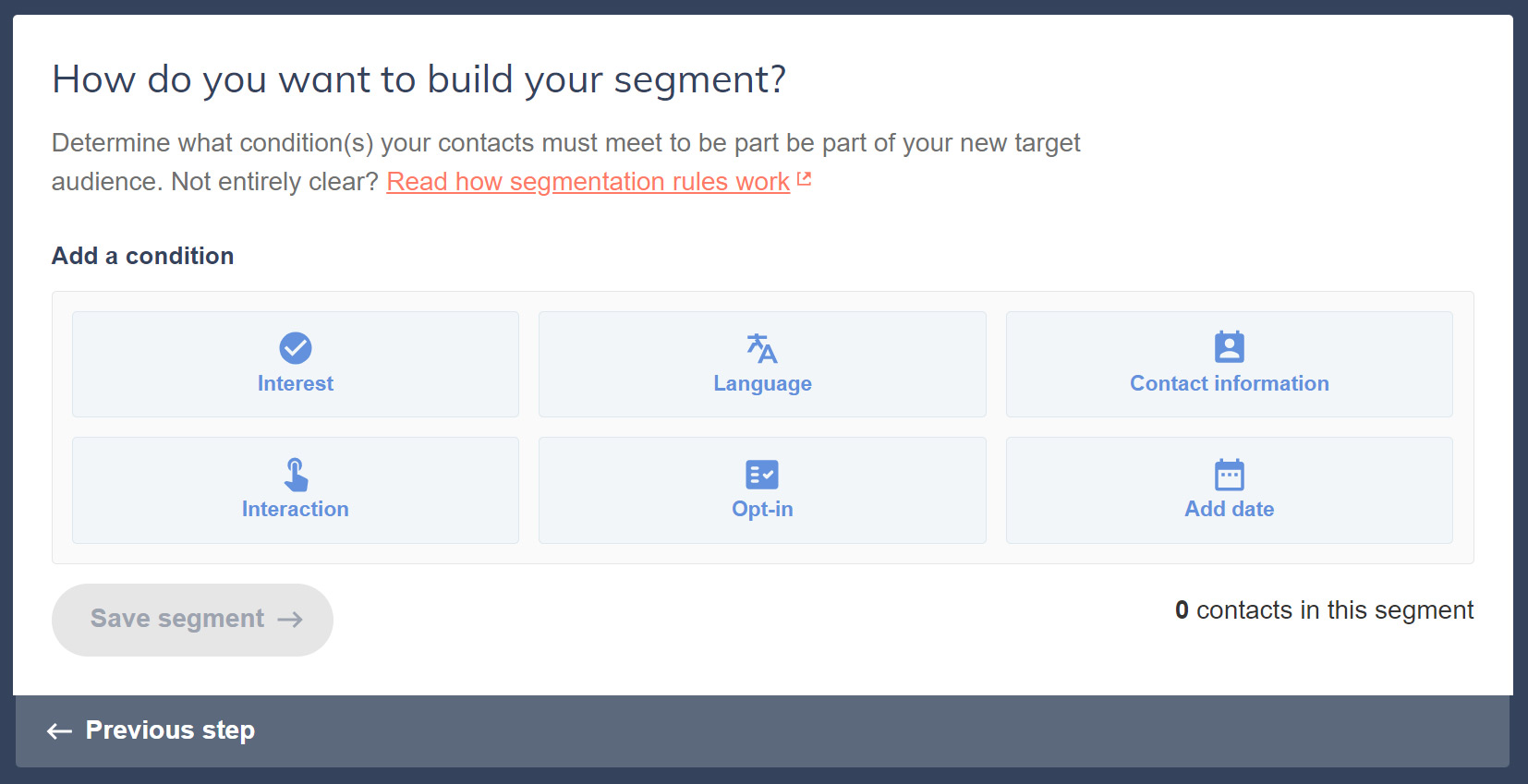 Create segments based on collective characteristics
Divide your contacts into various target groups on the basis of collective characteristics that are relevant for your objectives. These segments could include 'returning customers', 'potential customers' or 'interested in product X', for example. Make sure that these segments are big enough to make effective communication possible.
Testing and optimising
Conduct A/B tests regularly to evaluate the effectiveness of your segments and personalised campaigns. Analyse the results and adjust your segmentation criteria as appropriate to achieve the best results.
Personalise your communication
Use the segments to deliver personalised content to your contacts. Adjust the content, offers and calls to action on the basis of the characteristics of each segment.
Efficient segmentation enables you to optimise your email marketing efforts, increase relevance and achieve better results. By identifying the right segments and providing targeted communication, you can enhance commitment and conversions, which will eventually lead to a successful email marketing strategy.
Create a personal touch
When you get to know your contacts better, you can send more personal messages. It helps you to strengthen the ties with them at the same time. Your contacts will look forward to receiving your campaigns, as they know they contain useful information that is tailored to their needs.
There are several ways in which you can send personalised messages:
Placeholders
The most obvious way is the use of placeholders. You can create specific fields, in which you will place certain data about your contacts. In your message (or subject line), you will have the possibility of mentioning this data via the placeholders. This can be the first name or a customer number or the data of your contact's representative.
By adding placeholders, you can show every piece of data from the database in your message.
Dynamic content
You can also personalise your message by showing or not showing certain parts of it to a certain target group.
Imagine that you have created a message about animal food, but you do not want to send a promotion on cat food to a dog owner. This is where dynamic content comes in. You can create a message with both a promotion for dog food and a promotion for cat food, but you only show the cat food promotion to cat owners and the dog food promotion to dog owners.
In this way, you only send relevant content to the contacts who really want to read it.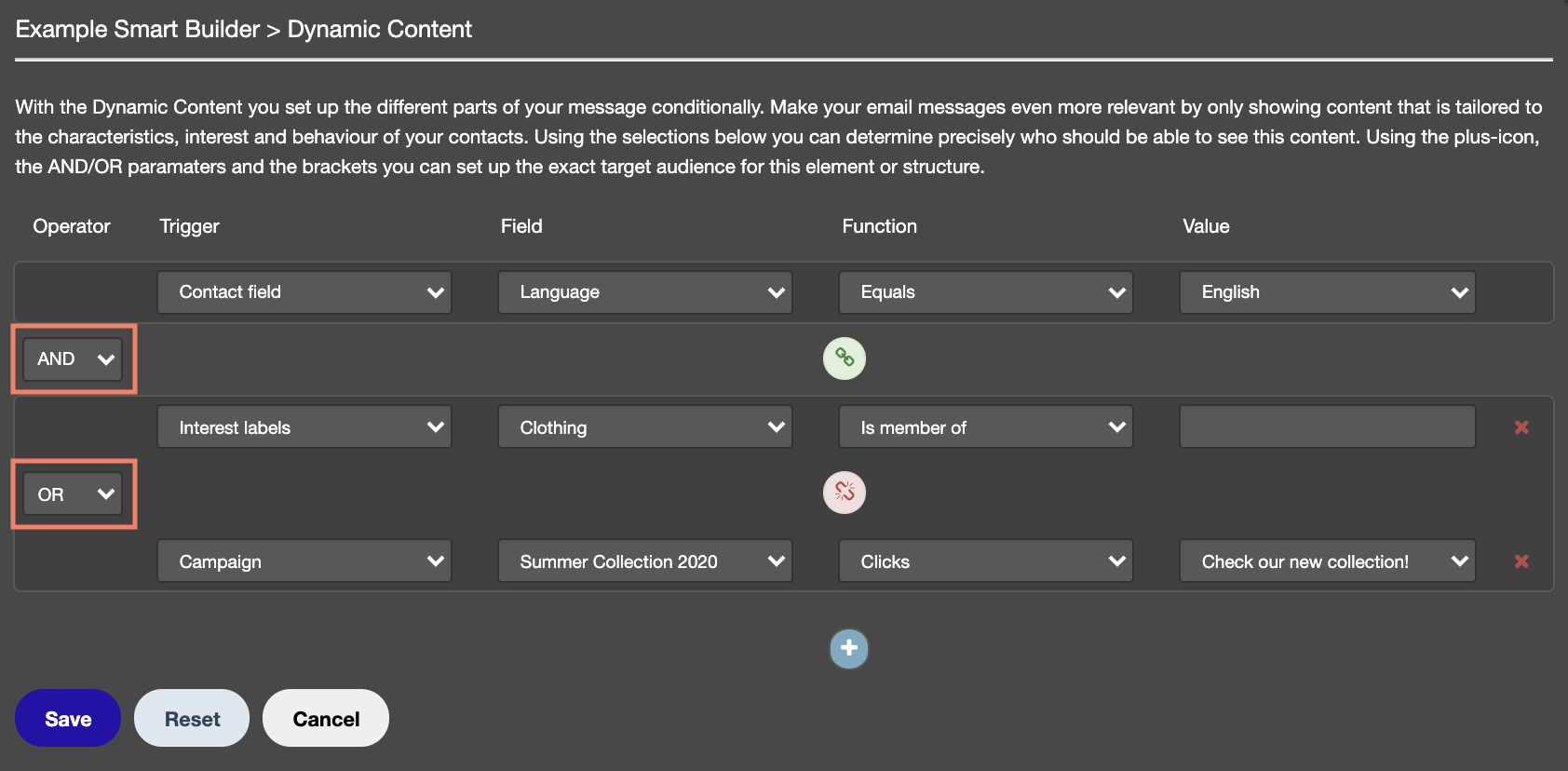 Segmentation as the most powerful weapon
An easier way to conduct personalisation is segmentation, of course. With segmentation you do not only make sure your contacts receive what they are really interested in. You also get a clear overview of your contacts, which you can use to select the right target groups for your campaigns easily and fast.
Have contacts indicate where they live, which interests they have and which information they want to receive. Divide your contacts into various target groups and send them the content they expect, so that they will be less likely to unsubscribe. What is more, it increases the open and click rates, because they receive the right information.
Imagine that you want to send several campaigns: a newsletter, weekly promotions and information about upcoming events. Divide your contacts into various target groups, depending on their interests. Have them indicate this via their profile page or when registering on your website.
If a segment is created on the basis of the interests they have indicated, they will always be in the right segment and therefore receive the right communication. If their interests change, there will be no problem. The contact will be moved to the right segment automatically, without the need for you to perform any actions manually.
What matters is the result
A clear subdivision into target groups or campaigns tailored to your contacts' needs and wishes is important, and so is the eventual result for you.
The use of segmentation and personalisation has yielded many positive results.
Increased commitment and interaction: by making messages more personal and relevant, you encourage stronger commitment among recipients. This results in a higher open rate as well as more interaction with the content of your emails, such as clicking links and images.
Higher conversion percentages: by tailoring messages to your recipients' interests, needs and preferences, you increase the chances of conversion. Recipients will be more inclined to react to offers, recommendations or personalised content that is specifically tailored to their wishes, interests and needs.
Improved customer satisfaction and loyalty: if a personalised experience is provided, the recipients will feel appreciated and understood. This can lead to higher customer satisfaction and increased brand loyalty. Satisfied customers are more inclined to advertise by word of mouth.
Lower unsubscription percentages: sending irrelevant messages can lead to frustration and cause recipients to unsubscribe from all of your email communication. By applying segmentation and personalisation, you reduce the chance of unsolicited communication and minimise the number of unsubscriptions.
Better ROI and marketing performance: by sending more targeted messages and increasing relevance, you can improve your return on investment (ROI). Segmentation and personalisation help you to make better use of your marketing efforts and also lead to a higher conversion rate and better marketing performance in general.
However, it should be noted that results can vary, depending on the quality of your data, the exactness of your segmentation criteria and the correct personalisation implementation. This means it is essential that everything is tested, analysed and optimised regularly to achieve the best results.
Conclusion
Segmenting your database and applying personalisation is crucial to gain your recipients' commitment and increase your conversions. By sending targeted and relevant messages, you create a better user experience and build long-lasting relationships with your target group(s). Continue to experiment, analyse and optimise to put your email campaigns to optimum use.