We recently organised a webinar on Zapier and on how to connect it with Flexmail and your other favourite apps.

Did you miss the webinar? Don't worry. We provide you with a clear overview, and you can watch the webinar again as well.
What is Zapier?
We often receive the question of how a connection can be made between Flexmail and a CRM system. To do this, you can create an API connection, but this takes some development work and some time, both of which are not always available.
We are therefore very enthusiastic about Zapier. With Zapier you can make a connection with more than 5,000 apps very simply and quickly. No programming knowledge is required. You can set up automatic actions in only a few clicks.
Why use Zapier?
You can synchronise all your various programs: your contact data is one of the most important things you need in your email marketing. This means you want it to be correct and consistent.
No time lost with manual actions: let Zapier do the work for you, so that time is freed up for other tasks.
Create simple flows by setting a trigger and an action: when our flow needs to be triggered and which action should follow.
No programming costs and no developers required: Jij you are in control. You can automate many tasks, and all it takes is a few clicks.
Tasks you can automate
The benefits sound promising, but which tasks can you actually automate? Here are some examples:
Sending messages to leads and customers;
Sending your team information about your contacts;
Synchronising data;
Updating appointments, meetings and events;
etc.
Making a connection between Zapier and Flexmail
A Flexmail account and Zapier account are all you need to get started. After this, it is only a matter of creating the right zaps.

You can create a zap in two simple steps.
Indicate what should be the trigger. When does your zap need to start? Think of new contacts to be added to your CRM, or a contact that has subscribed to a certain interest.
Once this occurs, an action will be triggered. What should happen at that moment? Do you want the contact to be registered or updated? You can even go a step further and have a welcome flow started when a new contact is added.

Depending on the app you want to connect with, there are many possibilities. This does not only ensure that your data is synchronised but also helps you to have better segmentation and to send more targeted campaigns.
Triggers and actions
Every platform connected with Zapier has its own triggers and actions. Here are some options for Flexmail:
Triggers you can set from Flexmail:
Contact has been added
Contact has been updated
Contact has unsubscribed from an interest
Contact has unsubscribed
Contact has subscribed to an interest
Opt-in was confirmed
Actions you can set in Flexmail:
Adding or updating the contact
Unsubscribing the contact
Subscribing the contact to an interest
Unsubscribing the contact from an interest
Finding the contact
Finding and creating the contact
Here is a specific example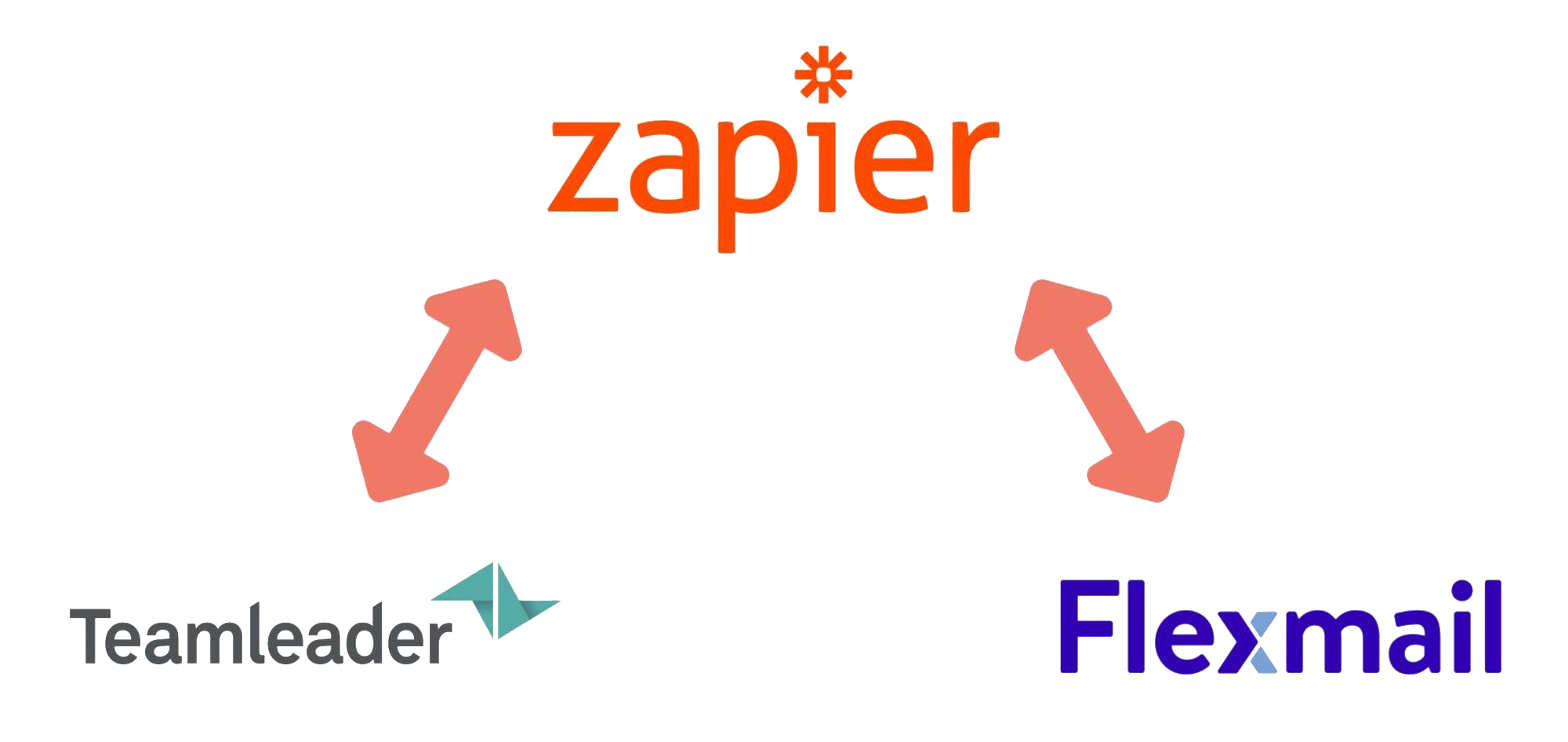 Imagine that you use Teamleader to save all your contact data, and you want to make a connection with Flexmail to use this data in your email marketing. In that case, you can easily make a connection via Zapier and create simple zaps.
An example of a possible zap in this connection is when a new contact is added in Teamleader. Your zap will ensure that the new contact is also added to Flexmail. If the contact already exists in Flexmail, it will be updated.

The other way around is also possible. Imagine that you have placed an opt-in form on your website. A contact subscribes to it and confirms the double opt-in. You obviously also want to get this contact in Teamleader. With Zapier, this happens automatically. You can create a zap in which you say that a new contact will be created in Teamleader when a contact confirms an opt-in. The manual work of importing and exporting is avoided, and you have more time to devote to other tasks.

By linking your Teamleader data with Flexmail, you can do the following:
Set up personalised email campaigns and automation flows with segmentation data from Teamleader;
Set up upsell campaigns based on a product group once a deal has been reached;
View recent data in every app and update an email list;
Avoid duplicate contacts;
Recover data silos between teams and avoid these in the future;
Improve conversions, because your marketing team can give your sales team optimum support.
Are you ready to build your integration? Make sure you look at the following pages: