Thanks to good onboarding, you can attract prospects and pull them in. We also realise you cannot do this with every prospect one by one. So how to start an automated scenario?

Our plan in steps, tips about the content and structure of popular types of onboarding emails, and the recording of our webinar are provided below.
What is onboarding?
Onboarding emails are the most effective way to show your product or service to potential customers. In these emails, you inform them about the benefits your products or service can provide. This is how you guide them to the so-called aha moment – the moment at which they discover the value of your product or service. Once you have achieved this, you can count on their long-term commitment.
Onboarding emails have a great many other purposes too:
Welcoming a new customer or subscriber;
Offering instructions about the use of your product or service;
Encouraging further commitment and interaction;
Cross-selling or upselling other offers;
Replying to all other questions a new customer may have.
What makes onboarding emails so powerful?
They are the first interaction you have with your contact, in the form of a transaction or a specific question. On average, your first emails will have the highest open rate. If they continue to be exciting enough, your prospects will continue to return, and this is your object of course.
How to start an onboarding flow?
Once you have insight into what your customer journey looks like, you can send specific emails. Setting up a flow takes a lot of brainstorming. These questions may help you get started:
What exactly do you want to optimise? A welcome flow for people who make a contact request?
How did these people find you?
What did they think at that moment?
What do they already know about you?
In the case of prospects: how much time is there on average between the first moment of contact and the sale?
And when they decide to buy, which arguments motivate them to do so?
What do they compare, when they make a comparison with the competitors?
What does your sales process look like? Which resources are available in your sales process? How soon do you contact them?
What are your prospects' questions and concerns at the moment at which they contact you?
Which information can help your prospects to make the right choice? How do you make the difference?
Are there any aha moments in your sales process or use of your product you can respond to?
Aha moments
This is the moment at which the customer becomes aware of your value for the first time. But do not be misguided! It is not just a moment but rather a sequence of actions. For Dropbox, for instance, it is saving a document, and for Facebook you reach this moment when you make ten friends in seven days. The aha moment is unique for every company.
It is up to you to discover which are the specific aha moments for your company.
These are your micro targets, on which you will base the content of your emails. Once you know which bottlenecks prevent your contact from reaching this milestone, you can get rid of them little by little.
If your contacts do not know HOW to do something, you send them an email with instructions or a tutorial video. If your contacts are not motivated enough WHY they should try, send them a customer case of your loyal ambassadors.
Here is a plan in steps for starting your email flow:
Discover how long converting a new contact takes on average.


Build a hypothesis: what are the convincing arguments for conversion, or what should a prospect have seen or done at least?

Once you know the average conversion time, making hypotheses about the actions or functions that may impact retention is the next step. A good first step is to look at (or inquire among) your most loyal users and compare them with the prospects you have lost. Which actions did they perform, and which information was decisive?


Test your hypothesis, if you can. Are there any similarities among your new customers? Is this information correct for the majority of them?


Start setting up your email flow.
The onboarding flow of an SaaS business like Flexmail, with a 14-day trial period for example, could look like this: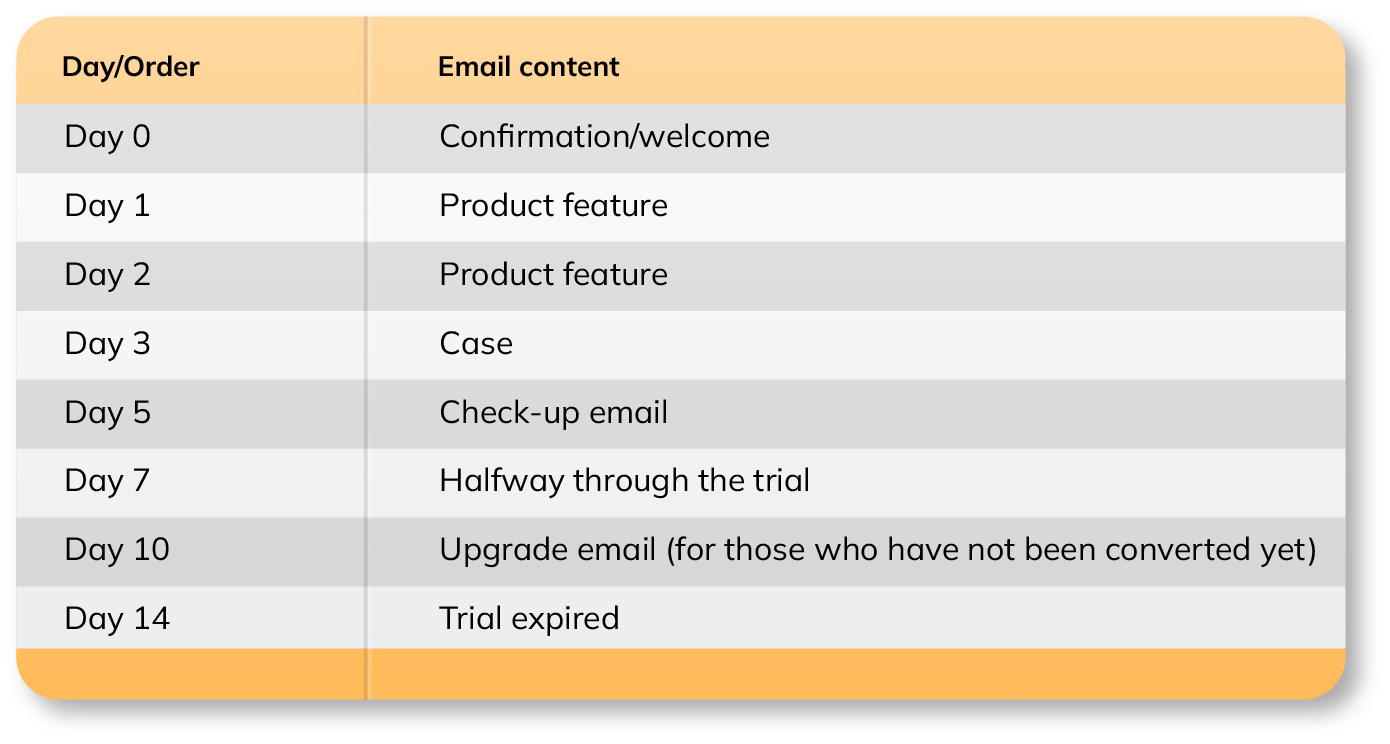 Most conversions take place early in the trial period. So you want to start on a strong note. Probably, you will have competitors to deal with.
We start with a welcome email. Next, we will work on some important features. On day 3, we try to convince the contact with a customer case. The second part of the flow is focused on informing your recipient correctly about the trial progress.
The onboarding flow of a windows-and-doors business could look like this:

Here, too, after the application, we start with clearly confirming that we have received their details or application. Next, we position ourselves as a strong, reliable and expert partner for your renovation project. We can explain our expertise and specific knowledge in the next few days via a video about the day of installation, a tour of the workshop, and a case study of a satisfied customer. Here, we also try to emphasise what makes us stand out from our competitors as much as possible.
What do the best onboarding emails consist of?
A strong flow without the effective content is the last thing we want. Keep in mind that you want to include the following in your emails:
A clear value proposition;
A positive acknowledgement;
Triggers based on context or behaviour
This is why they are so important:
1. A strong value proposition reminds people of their original intentions
Onboarding emails are useful if they emphasise problems and clear solutions to them. So they do not merely focus on features or technical properties. Your contacts want to know WHY your product or service is the solution for them.
'People do not buy products, they buy better versions of themselves.' – Samuel Hulick
There is no need to show any restraint where your value proposition is concerned. On the contrary. We all need repetition to let something sink in. This is precisely why it is a good idea to keep on emphasising the benefits of your product as well as the risks of not using it.
💡Extra tip
Tailor your value proposition to the target group you send your emails to. The needs may differ, depending on several factors.
2. Positive acknowledgement releases chemicals that enhance motivation
Motivation is the best way to draw users to value. It is also a simple way to give your users positivity and thus increase your value. People are inclined to look for rewards. The dopamine rush it brings on gives them an energy boost to continue to use your product.
This principle is also known as the Zeigarnik effect (the effect of loose ends) or the endowed progress effect:
We are more committed to completing a goal when we have made some progress.
3. Emails triggered by behaviour are the most relevant and the least boisterous
No two customer journeys are the same. Everybody experiences your product or service in a different way. Where one user is highly committed and never stops working with your product, another user may opt out even before the first step.
If you send emails that encourage your users to take further steps, you grab their attention immediately. Do not forget that your first emails have the highest open rates, so make sure you set the right tone. A welcome email with the first registration is a good example.
Various emails in onboarding with best practices
1. The welcome email
Purpose:
training subscribers to open your emails, and making clear what they can expect from you.
To be sent:
immediately after subscription/contacting.
Your welcome email is the first contact you make with your prospect. Bear in mind that it is also the email with the highest open rate you will ever send.
As a result, you may be inclined to cramp this email with information and calls to action. This is
not
a good idea.
With this email you want to create expectations and introduce yourself to your prospects. It is an informative email, with only a few calls to action that lead your user to the next step.
2.a. The personal email
Purpose:
starting conversation. Introducing yourself like a real human being, collecting useful feedback, or making sure that the recipient books an interview with you.
To be sent:
mostly within 24 hours after registration. To make it look more personal, you can postpone sending this email until a few hours after registration.
Personal welcome emails are a great way to make contact with new customers. With this conversation you can find out what they expect from your product and respond to this.
The personal email can look like the welcome email, but it has this human twist that should lead to a real conversation.
2.b. The helping hand
Purpose:
ensuring that your subscribers have everything they need to become successful, loyal customers.
To be sent:
you can use it as a parallel process to your sales process, to introduce your support team or to give persons you cannot get in touch with by phone a follow-up.
These semi-personal emails do not only welcome your customer but are also the basis of your service. After all, this is why your customers have registered in the first place. It is a good way to remind the users of why they have subscribed.
3. The Getting Started email
Purpose:
urging people to take the first step.
To be sent:
when new subscribers have not yet taken the desired action or when you want to guide them toward the next step.
You can send this email in addition to or instead of a welcome email. If you offer a trial period, you want people to get started as soon as possible to extract value from your products.
Do not overdo it by sending people a long email. Use the Getting Started email to make new customers take a single step.
Here is a fine
Zapier
example:
4. The pro(duct) tip
Purpose:
providing value-based product information and encouraging the user to complete the next step in the introduction.
To be sent:
depending on your schedule, on alternate days is a good choice.
You want your prospects to get to know the most important information through you rather than through your competitors, so that they can make a well-considered choice. In this process, you want to outsmart your competitors.
Try to take it beyond the level of a boring sales email and try to offer some real value. Help your prospects to be successful and make your most important features or productions stand out.
5. The case
Purpose:
removing any objections and seeing to social proof.
To be sent:
depending on your schedule, one to three emails with case studies are preferable.
Until now, you have always communicated from your own point of view. But what if someone else would talk about you? Recommendations from a person you can trust are always stronger. Put a successful customer in the spotlight using testimonials and reviews and publish these.
Involving your existing customers gives your recipients a sense that they are part of your community too. If use scenarios are emphasised, your product seems to be a lot more usable.
In the email below, you can see how Thumbtack has gone about this. By way of inspiration, they show in a video the result Oleg achieved with their help. They support it with some figures, and Bob's your uncle!
6. The motivating email
Purpose:
celebrate success.
To be sent:
after a contact has completed a specific action successfully.
People are preconditioned to look for rewards. If you have the possibility to celebrate successes, do so by all means.
Like in this Polly example:
7. The closure email
Purpose:
letting users know that they have to act quickly and that immediate action is required.
To be sent:
24 to 72 hours before the trial period or promotion expires.
In this email, use a strong focus on a sense of urgency, such as:
The clock is ticking. It is your last chance of conversion. Don't beat around the bush.
Urgency will only be effective if used at the right moment. The day on which a promotion ends (or the last days before a trial period expires) is the ideal moment to send your reminder.
Ask yourself:
What will users/customers miss out on, if they do not upgrade or convert?
8. Upgrade/upsell email
Purpose:
ensuring that prospects or customers make the transition from an entry package to a more expensive alternative with more possibilities.
To be sent:
periodically. This is a message you can repeat.
Most upgrade emails also serve as activity update emails to summarise what your user has done with the product. At this moment, the user has already extracted value from it and is therefore the right target for upselling.
The word 'upsell' has an unnecessarily negative connotation. If you draw up emails with the right approach, you can include upsells in your onboarding without causing any irritation.
An email for a possible upsell could look like this:
9. The 'What did you think about it?' email
Purpose:
understanding why prospects do not buy.
To be sent:
at a moment that leaves sufficient time for closure and for giving people a chance and motivation to leave some feedback.
With this email you will collect valuable information about why people have opted out. Use the criticism to improve your product or onboarding.
Especially, however, you want to gain insight into how you can solve any problems for your win-back process.
10. The 'Don't forget to rate us' email
Purpose:
letting users leave reviews on review sites like Capterra, Google, Trustpilot.
To be sent:
only after a user has actively used your product or service for at least one month or if the user has already been converted into a customer.
In this email, you ask your customer to leave a review, possibly in exchange for credits or gift vouchers.
To receive a review, you need to have generated enough goodwill with your satisfied customers. So choose the best moment carefully at which you have the best opportunity to approach them.
Finally, we have these two bonus tips for you:
Bonus 1: best practices for writing your onboarding emails
Keep your emails brief and to the point
Brief and to the point is the tip when it comes to onboarding. This does not mean you have to count words, but think about your object in the first place. Your email should arouse their interest and guide the contact to the next step via your call to action.


Make your emails sound human
Do everything you can to write friendly emails. Remember that you are not the only one in their mailbox. Try to stand out from the competition by ensuring that your helping hand, the soul of your company, and possibly your personal approach become clear from these emails.


Avoid generic subject lines so that you are noticed
Although general subject lines are not terrible, they hardly encourage contacts to click on the email. The choice between opening and not opening an email often depends on the subject line, so be creative.


Do not let your images mar your message
You were not supposed to overwhelm your prospects with too much information and too many calls to action, remember? The same applies to images. The best emails are minimalist and to the point, to prevent your contacts from not seeing the wood for the trees.
Bonus 2: four tips for onboarding emails that incite people to take action
The follow-up required for active users is different from that required for inactive users
Do you remember we discussed the customer journey? Every customer takes another route and therefore requires a different approach. You can make this evaluation by looking at their activities. Have they used a function or made a purchase?


Make personalisation a priority
If you have more data about your contacts, you can make your onboarding even more personal. You should know more than just their first name. This is especially about your prospects' relevance. Use segmentation, so that your emails are more purposive.


Stick to one subject and one call to action per email
We repeat that simplicity is the standard. Do not overwhelm your prospects and stick to one subject per email. Include one call to action in every email, to guide your contact to the next step in your company.


Make sure you know when to use HTML versus plain text
Both have their pros and cons. In comparison with HTML, emails with plain text are more personal and easier to read, but this does not make them more attractive than HTML emails. Additionally, HTML offers more flexibility in the layout.
Continue to evaluate content and results
At the start, we made a hypothesis and several assumptions. Automation emails are often checked to see whether the content is still relevant, but perhaps it is even more important that their figures are analysed. This helps you establish which emails are the most interesting for your prospects and which are the least interesting for them. Are the results consistent with your expectations? If not, it is time to do some brainstorming.