Clear documentation, great deliverability, at an affordable price
Transactional emails are the driving force behind your business. These are 1-on-1 messages that are activated by user actions, such as password requests, order confirmations and notifications. Such strong touchpoints between you and your customers deserve the best support.
Easy integration
Link your internal system with our powerful email API via our clear documentation and with assistance from the Flexmail team.
Delivery within seconds
Your time-sensitive communication is sent immediately.
Deliverability by experts
We have a long-standing reputation and many years' experience in large-scale mailing.
Be personal
Conduct personalisation yourself or have us combine data.
Separate email streams
Transactional and promotional emails are sent over parallel but entirely separate infrastructures.
45 days' data retention
Flexmail keeps all content, metadata and tracking information for you for 45 days.
Promotional and transactional emails are never mixed
Our API helps you send and deliver emails easily and fast, whether these are password reset emails, notifications, confirmations or newsletters. To protect the deliverability of your crucial transactional emails, we send transactional and promotional emails over parallel but entirely separate infrastructures.
The strong support you are accustomed to
We ensure that sending emails is a quick and reliable process. Our API documentation is logical and simple, and our team is always ready to support you where necessary. Free of charge.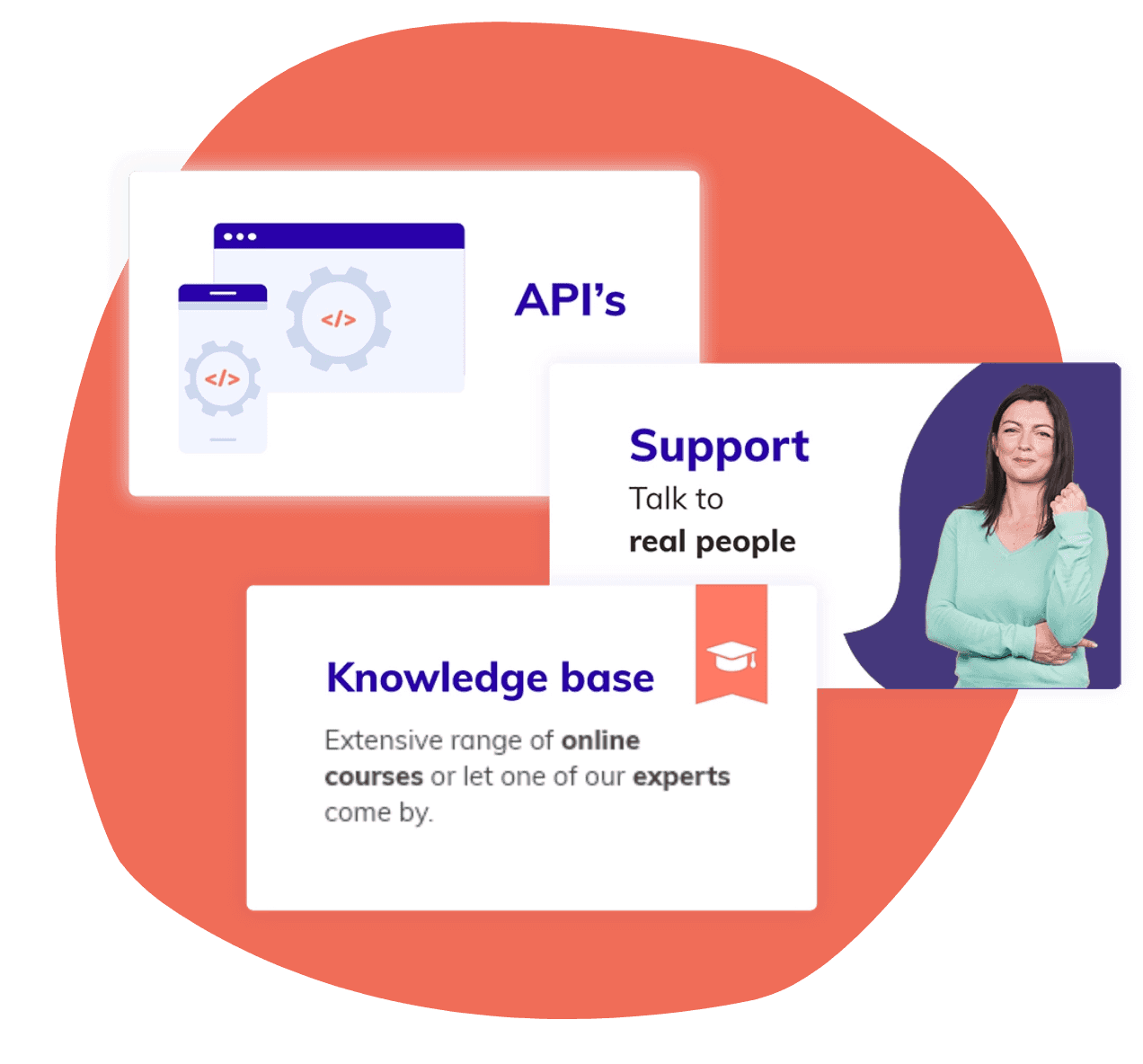 A powerful email API
Easy integration, reliable deliverability and clear documentation: Set up your integration easily and fast.
Register for free early access
Register to be among the first to get access to our beta release. In exchange for your feedback, you can mail free of charge for the first few months, without any obligation to buy.
Transactional e-mails are 1-on-1 messages that are sent with respect to an interaction with users, such as placing an order or requesting a password. These e-mails are essential for your recipient and have to be received reliably and more or less immediately in your recipient's inbox.
Transactional e-mails are activated by the recipients themselves and normally do not require an unsubscribe link. Unlike marketing e-mails, they have an informative character.
This also means major opportunities for marketeers. For your customers, all communication comes from your brand or business. Consequently, they expect an experience that is at least as good. Additionally, transactional e-mails usually have the highest open rates (because your recipients expect them). All of this explains why they are an important part of your e-mail communication.
Contrary to promotional e-mails, where the same content is disseminated to many recipients simultaneously, transactional e-mails are hyper personalised and are mostly sent to individuals on a 1-on-1 basis.Examples of transactional e-mails:
Account activation e-mails;
E-mails with a table of contents, such as a white paper or eBook;
Event tickets or reservation confirmations;
'Thank you' e-mails for completing an action, such as booking an interview or renewing a subscription;
Account details (e.g. resetting passwords);
Login e-mails;
Account activity e-mails (somebody has shared something with you or has tagged you in a photo);
Invoicing e-mails;
Order confirmations;
Shipment confirmations for your parcels;
User invitations;
All kinds of notifications.
With the Flexmail e-mail API, you benefit from our top-quality sending infrastructure with its well-known deliverability. We carefully separate all transactional e-mails from marketing e-mails and keep track of all your content history and message events for 45 days. Our clear documentation and excellent support are included, of course. Additionally, the platform you use for your e-mails is Belgian and GDPR-compliant.
Would you like to try Flexmail?
A European and GDPR-compliant platform. Powerful features. User-friendly. Relevant emails to your target group. At last – email software that works for you.
Free trial
No Credit Card required Easy set-up 30-day trial version