Get to know your recipients better
You do not need to make a new mailing list anymore for every campaign. In your new marketing CRM, every email address is unique. With filters, segments, and interests you add structure to your data. It is the perfect way to send your recipients personalised and personal emails based on up-to-date information.
Free trial
No Credit Card required Easy set-up 30-day trial version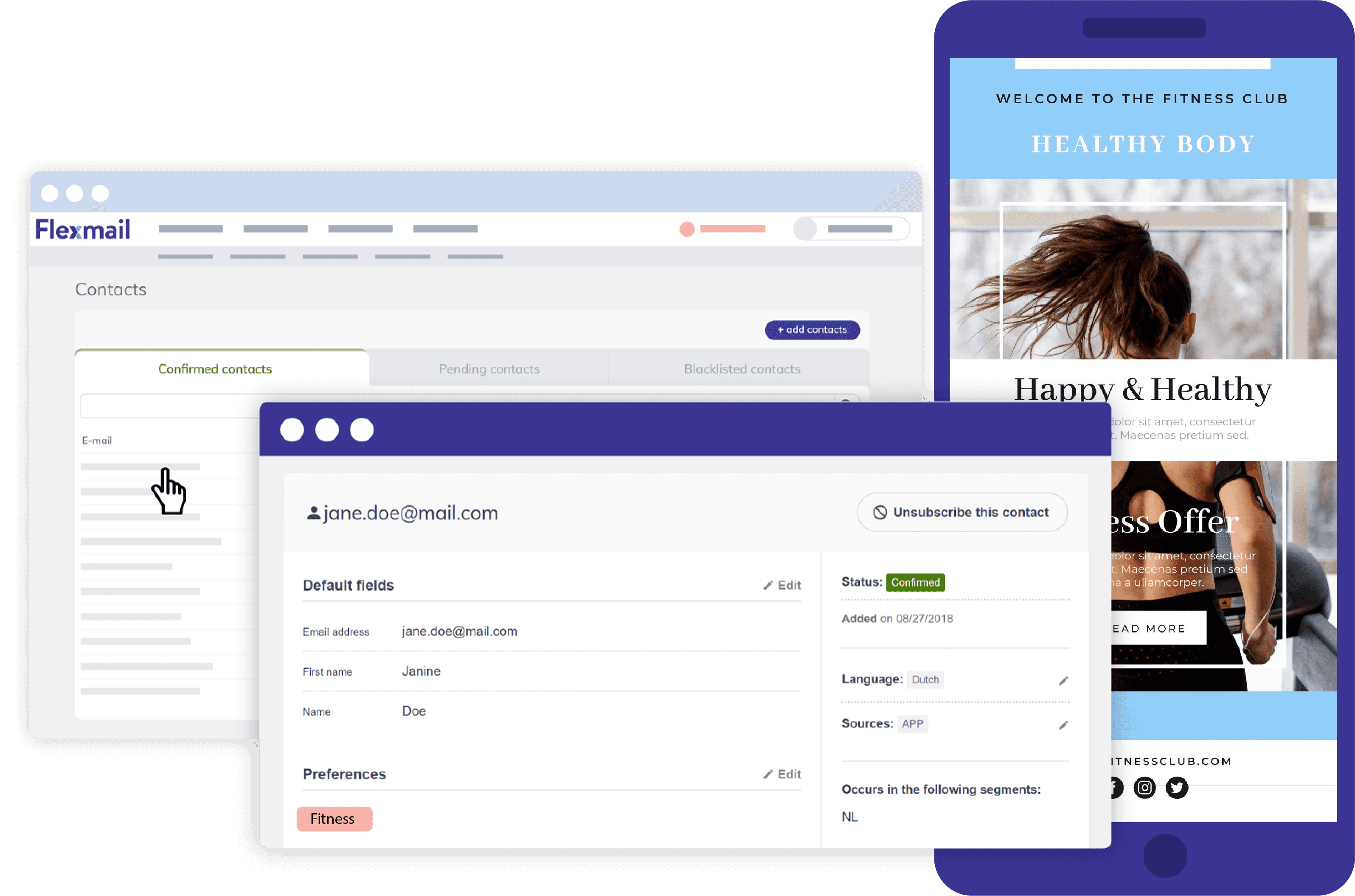 Your smart database
Whether you have 500 or 500,000 contacts, in Flexmail your data is always up to date and well-structured. And you can do this without any consultants or technical knowledge.
Import your data
Completed forms on your website, obscure import files, or data in other software? Put everything in Flexmail, and we will match all new information and existing data.
Transparent pricing
Thanks to a single central database, you focus on the right details, but it also means that you pay for every contact only once (and subscribe contacts are no longer included with us, of course).
Origin tracking
Always have a clear overview of the ways in which your recipients have ended up in your database. Importing a file, completing an opt-in form or external software.
Choose your own fields
Add information yourself and collect your contact's missing data as you go along. Create the contact fields you need yourself, regardless of whether these are multiple choice, text, numbers, or dates. This is how you draw up specific mailings that will help you meet your objects.
Adding a personal twist to your newsletters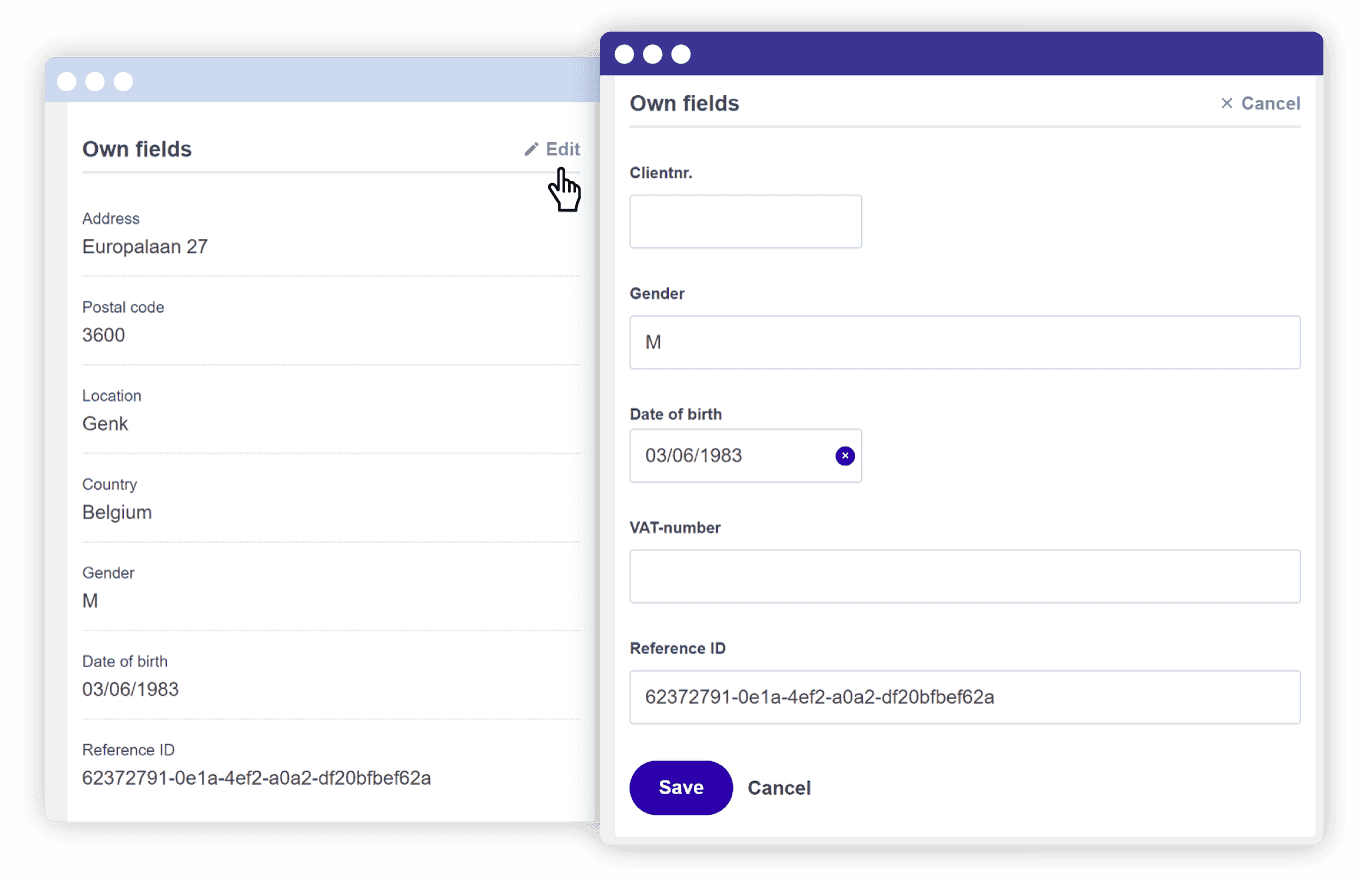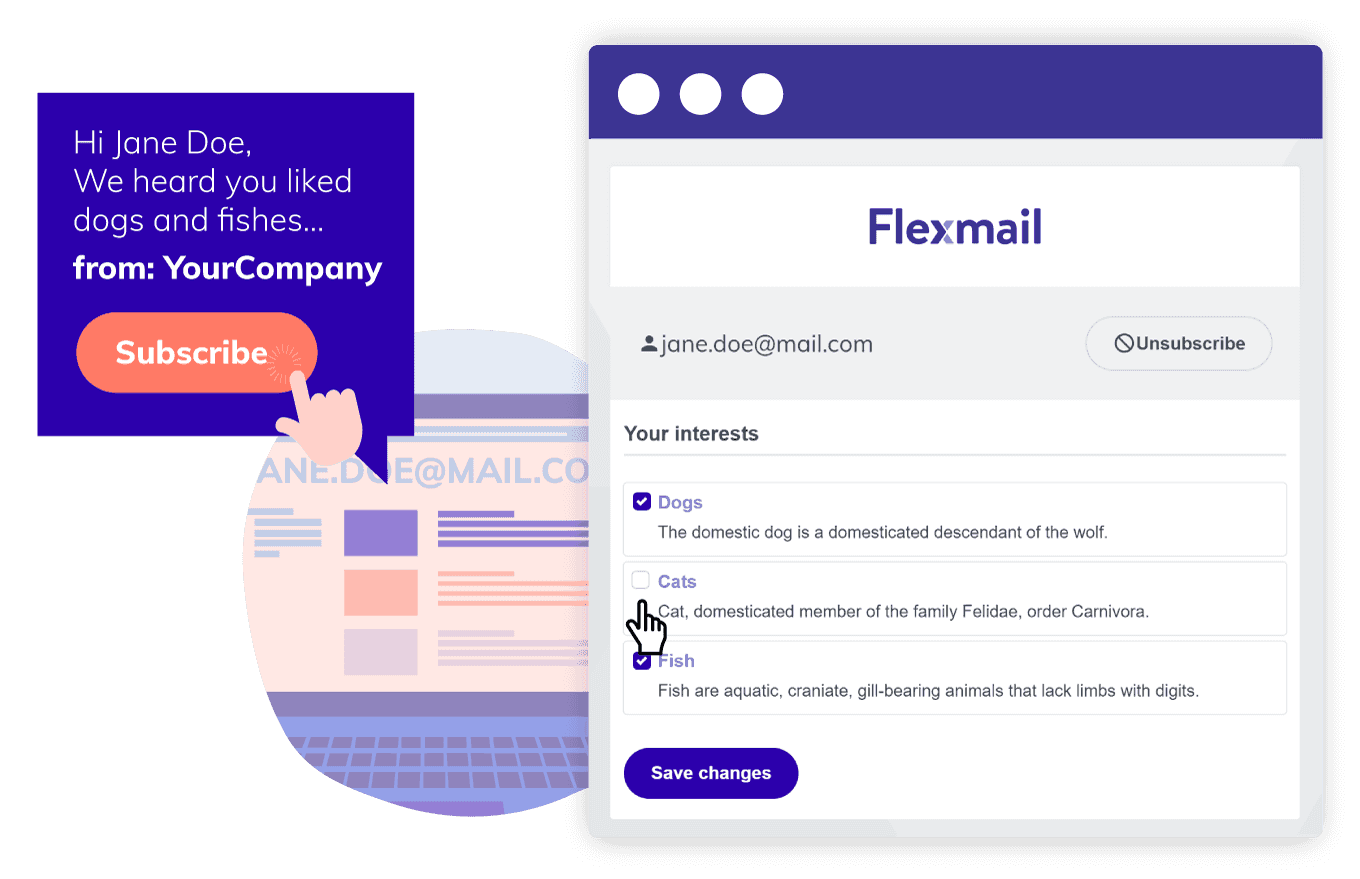 Personalised mailing with segments
Compose new target groups yourself on the basis of activity, contact data, or interests. In this way, you gain better insight into your recipients' needs, so that you can send them more specific emails tailored to those needs. Your future at Flexmail will consist of higher open rates and click rates!
More about segmentation
The best emails meet actual needs
Assign interests to your contacts on the basis of your import or enter them automatically in your emails on the basis of click behaviour (e.g. international travellers, coffee lovers, techies, newbies, etc.). Allow your recipients to subscribe and unsubscribe for specific communication.
More about interests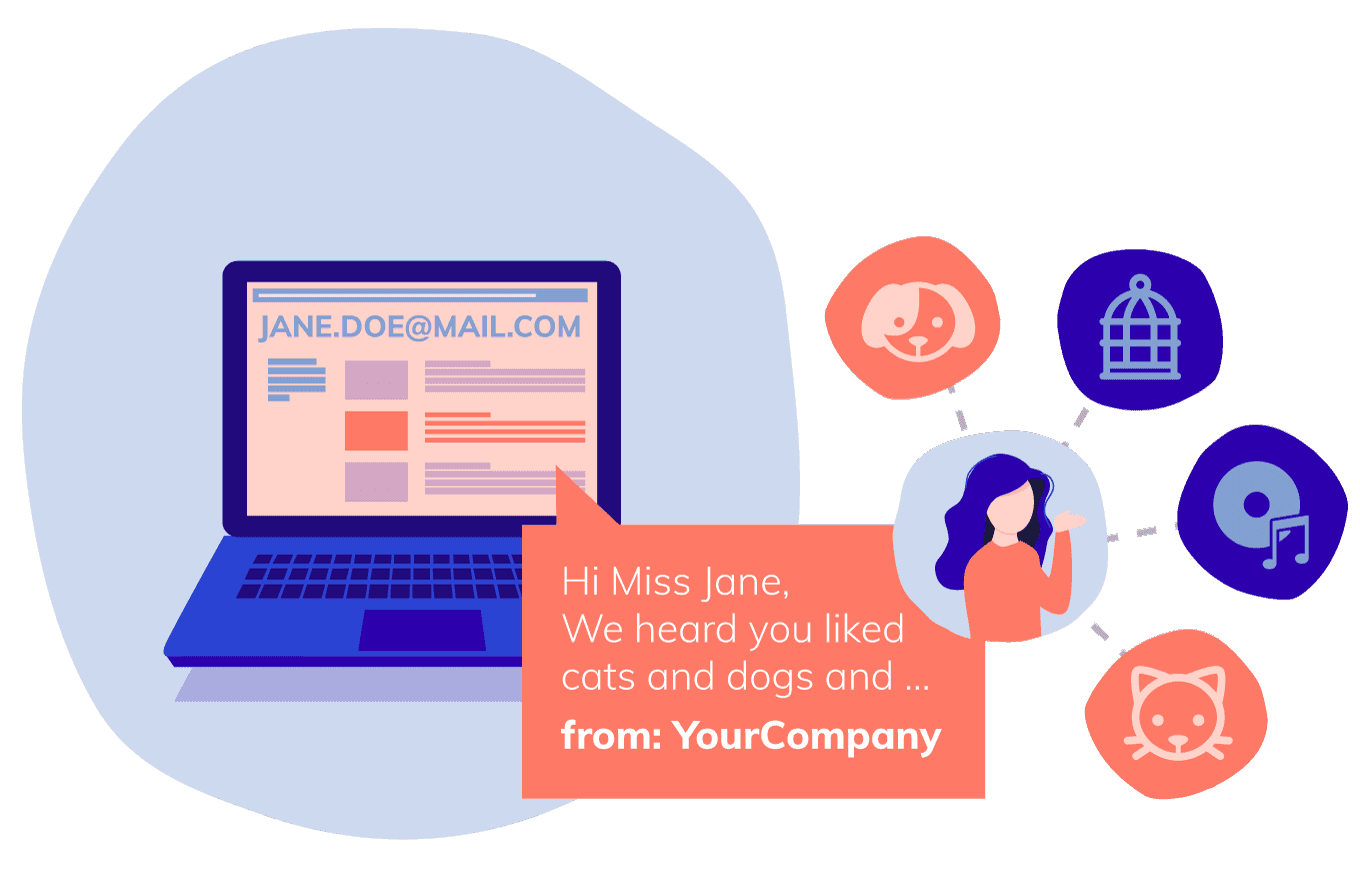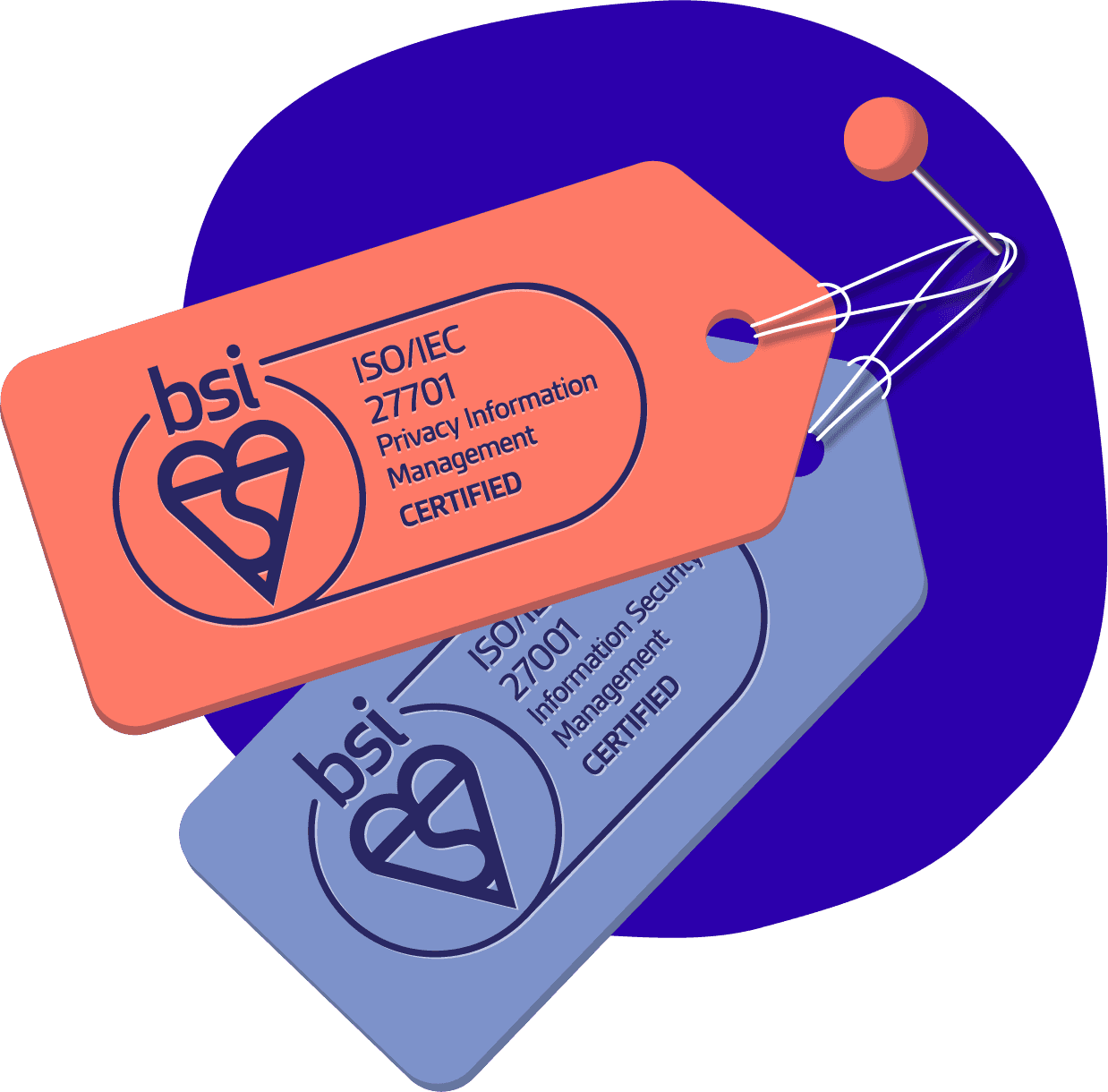 GDPR-proof mailing
Under the GDPR, you have to treat your recipients' data (and privacy) respectfully. Flexmail provides an overview of permissions and data you need to do this adequately. Additionally, you can also offer them the necessary transparency. When you use Flexmail, you also work with a European mailing tool that is not only fully GDPR compliant but also ISO 27001 and ISO 27701 certified.
Would you like to try Flexmail?
Register your free test account and try our features for 30 days. Design interesting emails, build your target groups, and discover how personalisation can contribute to your marketing. It takes only a few seconds, and you do not need a credit card.
Free trial
No Credit Card required Easy set-up 30-day trial version
Learn more about Flexmail contact management