ChatGPT is taking the Internet by storm. Journalists and marketers are experimenting to their heart's desire, teachers are in fear of plagiarism more than ever, and opinion leaders try to collect clicks by ruminating on whether AI will soon cause jobs to disappear.

But how can you use this powerful AI chatbot for your email marketing? In this article, we provide many tips and ideas about drawing up strong content for your email marketing more easily and more quickly, as well as ways to do this, with a little help from AI.
What is ChatGPT?
ChatGPT, developed by OpenAI, is what is called a large 'language model'.
It allows you to have a chat with a chatbot in a natural way. ChatGPT is capable of mimicking a human conversation and can formulate an answer to your input. As a result, you can use it for a great many applications, including explaining technical terms in an understandable way or even making it write your social media posts.
A 'large language model' is AI that is trained for large amounts of data and can predict the next word of a sentence. The higher the number of data inputted, the more tasks it can fulfil. Next, it can apply this knowledge to other domains.
During the test phase, we thought it was useful to help you devise ideas, get inspired and save time. In this article, we share many examples from ourselves and the best we could find online, so that you can use ChatGPT too for your email marketing.

Is it a good idea to have ChatGPT write my complete blogs?
How convenient. So I just ask my question and have ChatGPT write my complete article?
No. Google is already able to detect if content is written by AI. So right now, and especially also in the future, you can wonder to what extent you will be punished in the search results.
Although ChatGPT is a powerful language model that can generate human text, it will not be able, especially not today, to replace human creativity and critical thinking. ChatGPT is only as good as the data in which it is trained. Besides, it does not always produce accurate or suitable content. What is more, ChatGPT cannot understand the context or intention behind the generated text. Yet, the output and the chat would make you think it could.
Since it does not understand this, it cannot match the voice of your brand. Therefore, use ChatGPT especially as a tool during your own research or writing process.
Keep the following in mind
ChatGPT is not aware of any recent events
Until now, ChatGPT has been trained in data until 2021, so it does not provide any more recent information.
ChatGPT needs detailed instructions
The shorter your instructions, the greater the chance that someone else with the same question will roughly get the same output. ChatGPT has been designed not to plagiarise itself.
To ensure your output has the highest possible quality and is as original as possible, you have to provide detailed instructions. This is a great strength as well as a restriction you need to be aware of.
ChatGPT has 'confidence' and provides tedious feedback
ChatGPT will be full of confidence and will give you a clear answer, which does not mean the answer is correct. It does not know the difference between right and wrong, so you will always need to check what it says.
It can also give tedious answers, a problem its developers attribute to trainers 'who prefer long answers that look more extensive.'
Examples and tips
Let's move on to the juicy stuff. What can you do with it that makes it worth writing an article about it?
Here are the use cases in which we found ChatGPT most valuable:
1. Assisting in brainstorming
Have you never used ChatGPT? To get some idea of the possibilities, you can ask for a list of possible topics for your next blogs: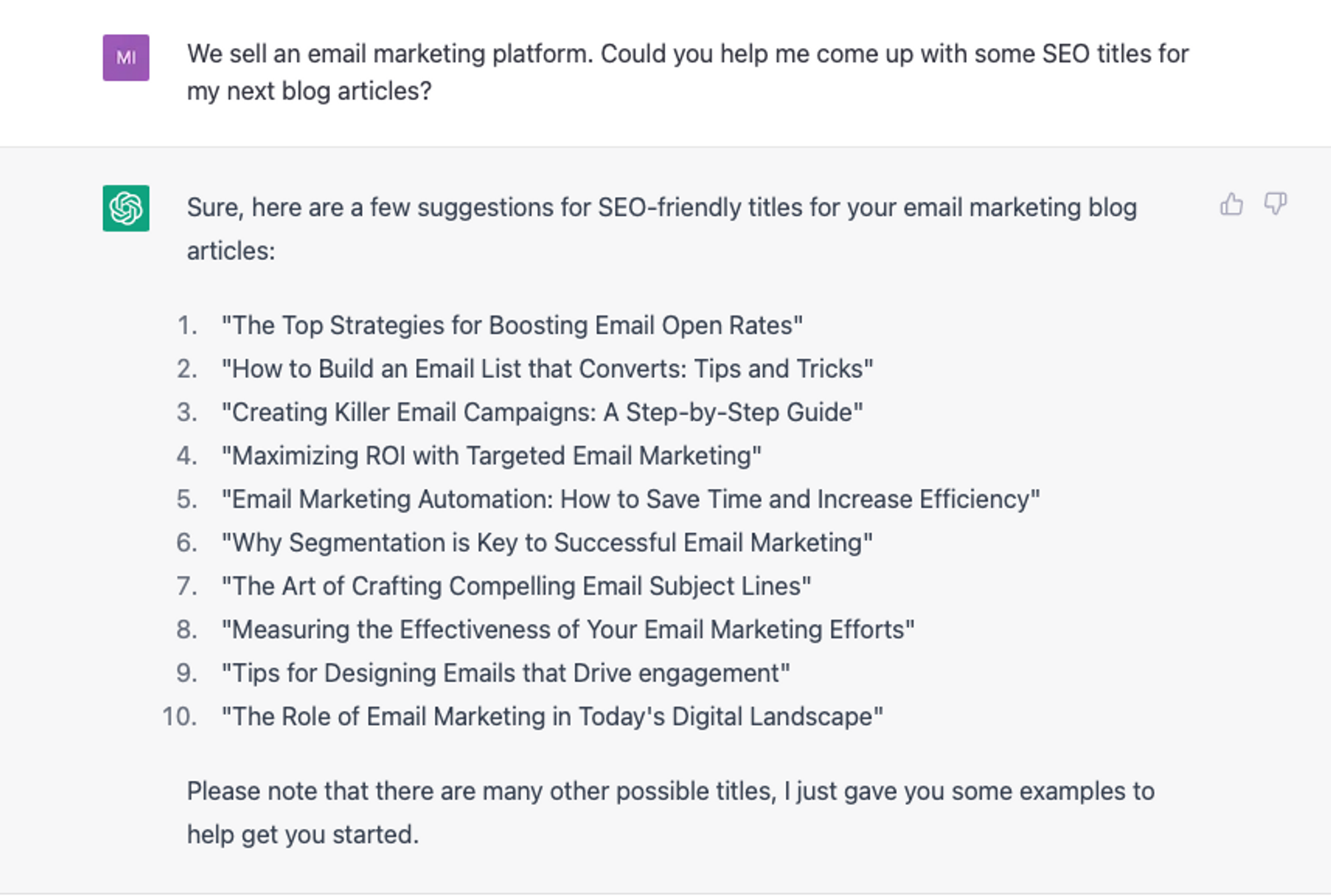 These topics are often generic and predictable, though. Therefore, try to make it help you look for original angles or approaches.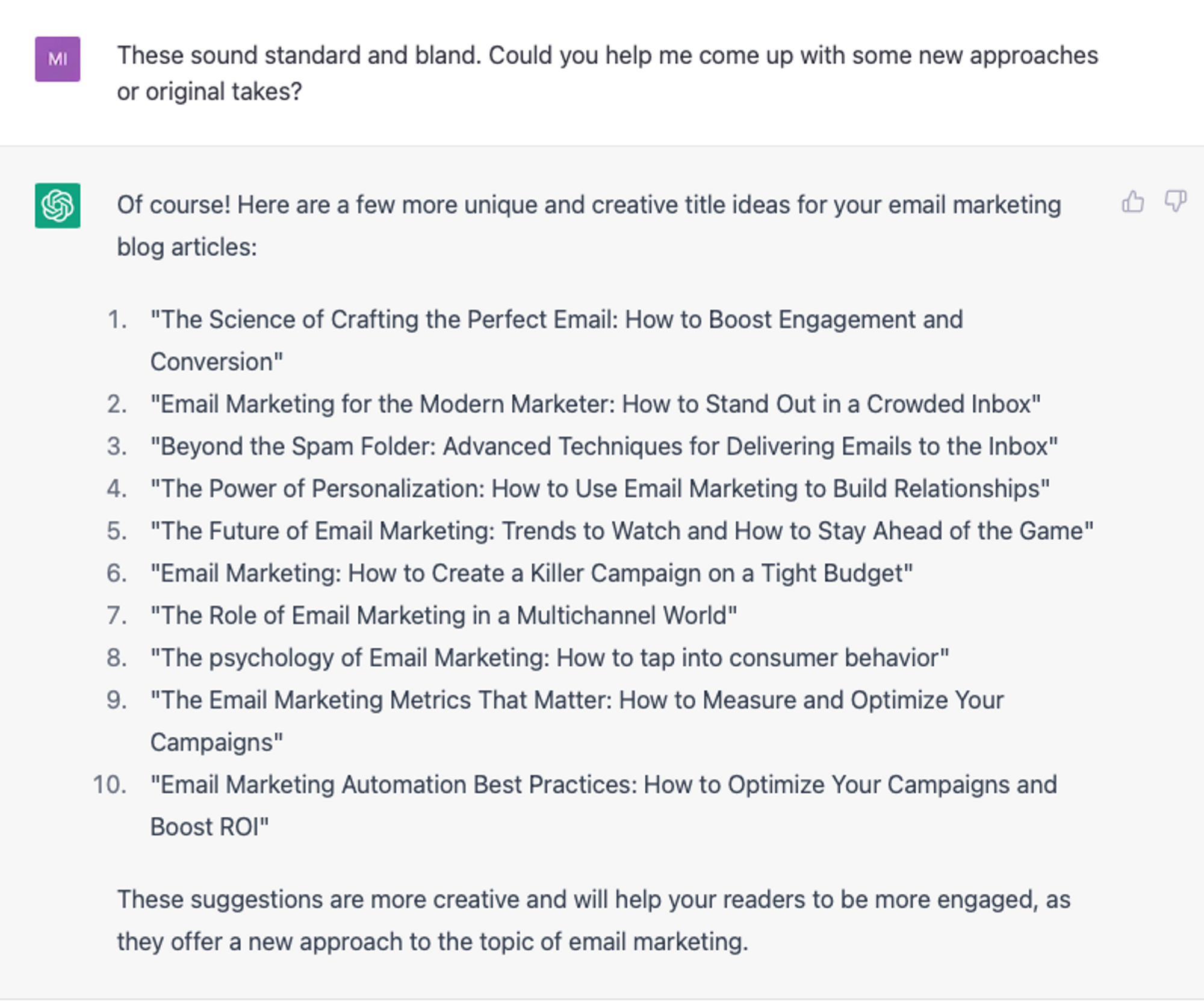 Or: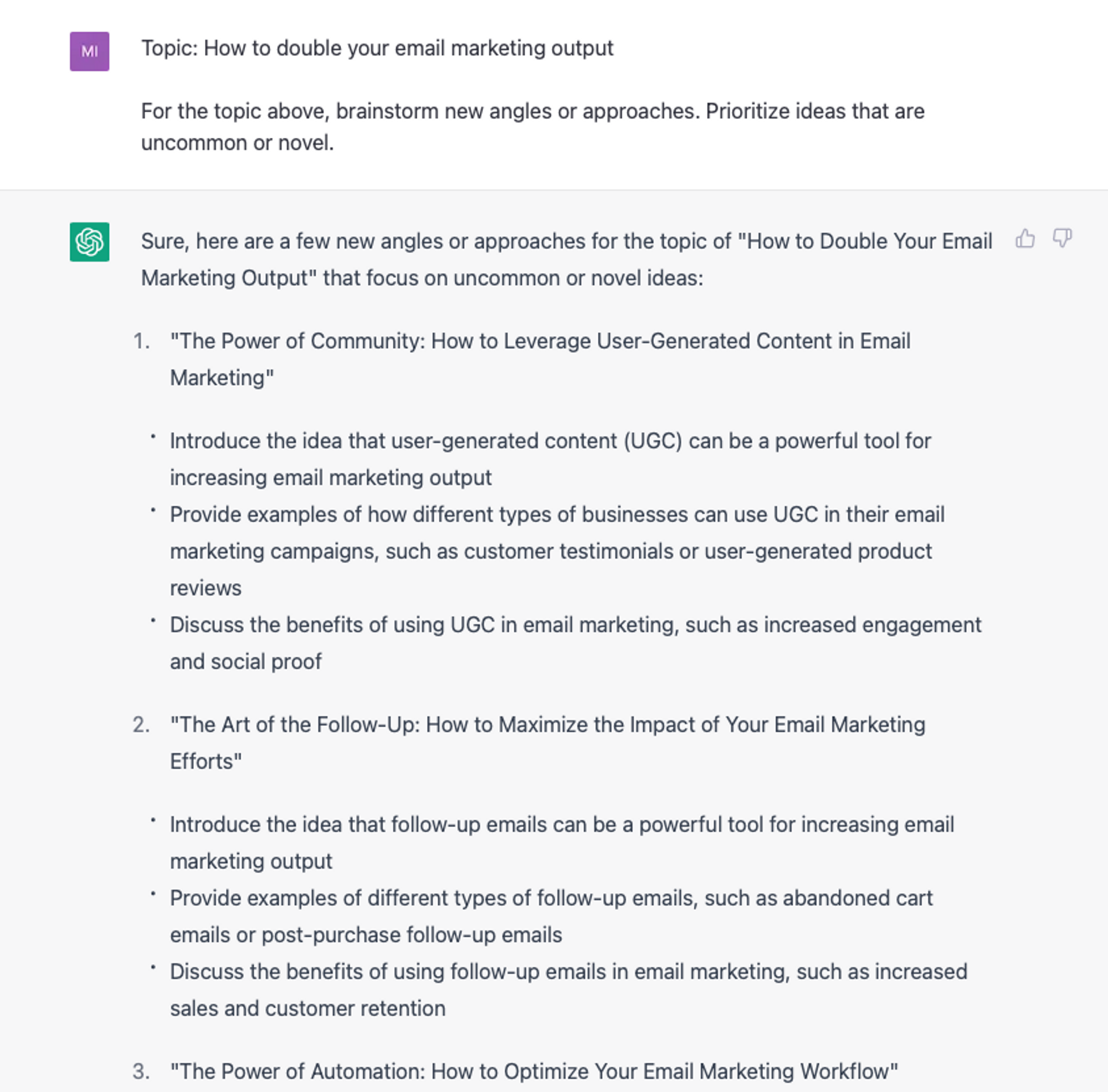 Do you want to write a case? Ask ChatGPT to help you prepare interview questions. Here, too, you have to add the direction in which you want to move. Inform the system about what you want the case to convey to your readers, that you are looking for unique questions, and the sector in which you and your customer are active.
2. Assisting in adding structure
Sometimes, you know what you want to write about, but you find it hard to get started. To get yourself to start working more quickly, you can have ChatGPT help you define the structure of your article. We did this as a test for our previous article: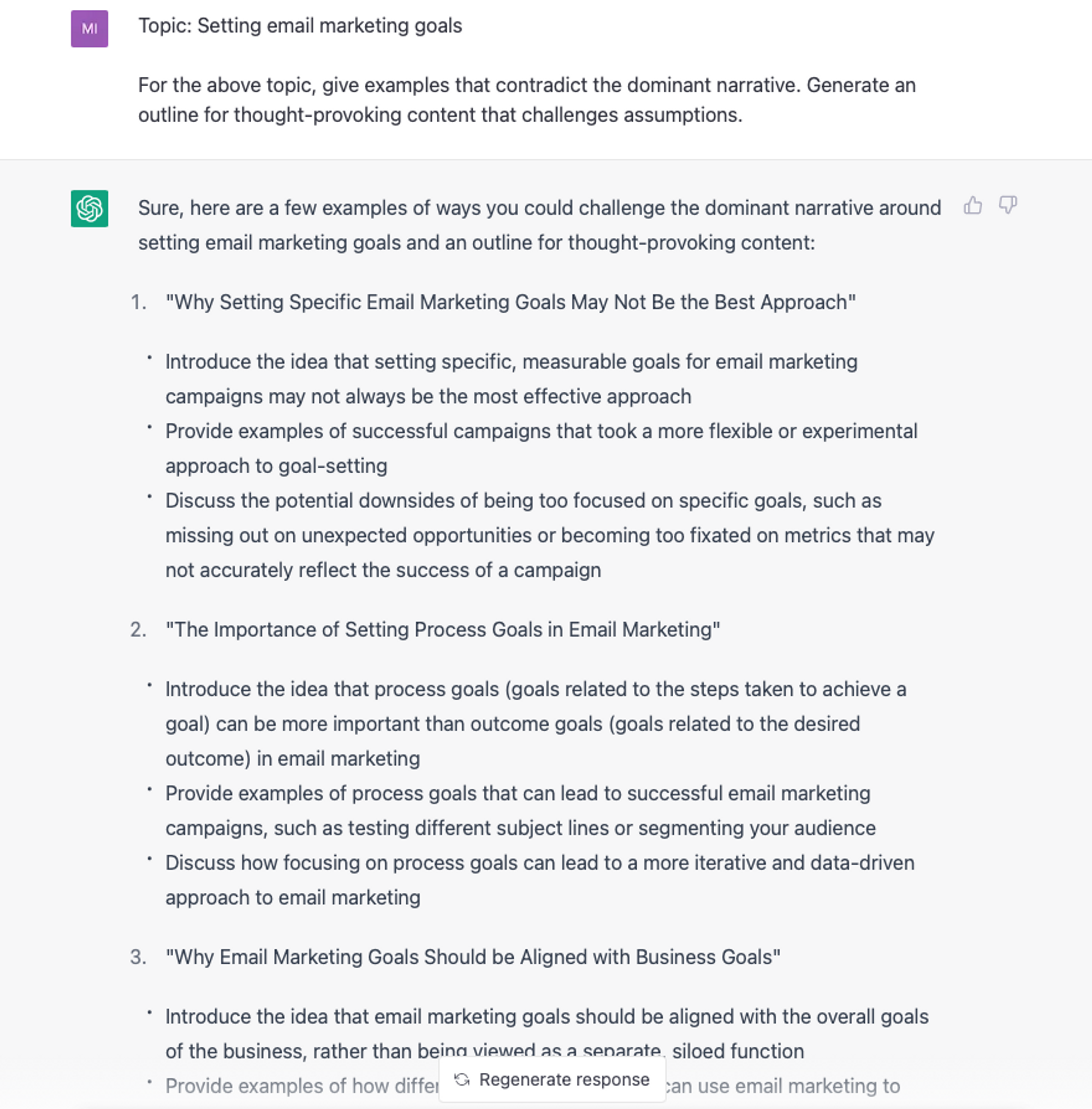 3. Summarising and wrapping
Have you finished your article? Then you still need to ensure your readers remember the major takeaways or that your readers will actually get to your article. Try the following tips:
Ask ChatGPT to write an email introduction to your article.
Ask it to help you brainstorm about good titles or subject lines.
Have it write your meta titles or meta descriptions from an SEO perspective. Google has even explicitly indicated this is not against the rules.
Have your article summarised in several lines for your conclusion or ask ChatGPT to help you write social media posts.
Ask it to write a concise product description for your website.
Have it review and improve your article. Ask it to look for errors in your article.
Ask it to shorten your text.
Even if you do not use it, it serves as a basis for your own version.
4. Translating technical into human
Once your sector is familiar with jargon, it is tempting to use this jargon in your content too, although you know that our text would be much better if we did not speak like a robot. It is ironic to ask a robot to explain something in plain language, but it can do so surprisingly well.
Ask it how something works, and if the language really has to be easy, add 'explain it to me like I'm five' to your question.
AI will never be able to replace copywriters
Of course, a robot can write a text. Unfortunately, a lot of marketing texts sound as if they were written by robots.
You do not want this to apply to your texts, of course, as the best content responds to your customer's needs and problems – in your unique voice. Read more about this in John Long's excellent slide deck:
ChatGPT is not a replacement, but it is a powerful colleague. So it is still your task to select the right ideas, to indicate what you are heading for, to make sure that the result fits in with your company and that you meet your objectives. Make things easier for yourself but add your personal touch to make your content special.
Getting interested? Then there are many AI tools that can make your life easier.
So let's get started. The more you experiment, the more use cases you will discover.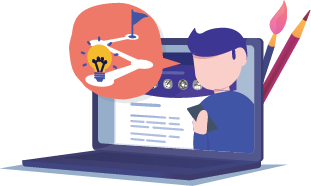 Would you like to try Flexmail?
Design mails tailored to your needs, reach your target group, and learn from the proper results.
Get a free trial now