Why opt for quick, ad hoc communication? Several years ago, Wilms, our loyal local partner from the heart of the Campine region, decided to make the transition from using long emails to short newsflashes (yes, this is still about emails). Newsflashes which immediately inform both customers and employees about the latest news. This had a major impact on customer valuation. On you too?
We talked to Wim Lenaers, online marketeer (or Digital Marketing Specialist) and shade master at Wilms. Shade master? Wilms has 200 shade masters, their internal team of professionals and experts. They have been producing roll-down shutters and awnings since 1975 and have become the biggest manufacturer in the Benelux. But where does email marketing come in? Wim gives us a unique look behind the scenes (or rather: behind the roll-down shutters and awning). With his tips and insights, you come out of the shadows too.
About Wilms

The ultimate specialist in roll-down shutters, awnings, and ventilation systems since 1975
Wilms is a manufacturing company in Meerhout, Belgium. They make roll-down shutters, awnings, and ventilation systems every day and sell these via a B2B network in Belgium and the Netherlands. In addition, they sell these products locally to private individuals.
Target groups approached via Flexmail
B2B customers (awning professionals, carpenters, construction companies – the people who sell and install their products).
Employees (better-known as 'shade masters') and their families.
A switch to quick, ad hoc communication
But in fact, that switch that we made was triggered by the customers. They told us that they really needed quick communication.
Since 2017, Wilms has used email marketing – with Flexmail from the start. Wim explains that they have now had a marketing team with 'a real online marketeer' for 2 years. This made it possible for them to improve their online presence and to make their all-decisive switch:
"When I started here, we did many basic things.
A standard newsletter
, for example, which we sent to our customers three or four times a year," Wim says. "I thought that was rather old school. It was also very unorganised. Our emails were long, with many items squeezed into them: products, commercial matters, colours, you name it."
Meanwhile, they have made the transition to a more
ad hoc
way of communication. Today, they work with
newsflashes
, calling their emails 'Wilms newsflashes'. What does it mean?
"We always send short messages. So, no newsletters on fixed dates. Whenever there is something new, we inform our customers 2 or 3 days later," according to Wim.customer's need
of quick communication.
"It is often a misconception that we always think everybody has been informed about everything and agrees with everything," Wim says. "Our customers expect to be quickly informed of any changes."
If you want to know how we handle this and what their customers think of it, read further.
An important partner for internal communication
Talking of change – about two years ago, the
Covid pandemic
hit. Email marketing became very important to many companies. Wilms was no exception.
When our people were working from home, Flexmail was a very important partner to keep them involved.
What initially seemed unthinkable at Wilms is currently something they cannot do without anymore: internal mailings. Previously, they did not communicate to their staff by email. If something was worth announcing, it was posted on the bulletin board or handed out in the morning when the shade masters arrived. "Like the newsflashes we send to our customers, we also have 'Team Wilms' newsflashes. These are messages that we started sending during Covid," says Wim. And they have continued to do this. Why? You will soon find out.
Insights we cannot keep to ourselves
Throughout our interview, we gained better insight into how Wilms uses email marketing, why they have made certain choices, and what works best for them. These insights are too good not to be shared.
1. Communication should be quick and clear
Because Wilms sells its products via a B2B network, its customers need to be informed quickly about new rates or delayed deliveries of engines or transmitters, for example. "We try to communicate this to our customers very quickly, and they really appreciate that," Wim says.
Our customers say: we work with Wilms, and at least we know everything immediately.
How do they go about it? It is often a very short update email (newsflash) with just 10 lines. In this way, their customers are informed quickly and clearly that their engine is currently not available, for example. Next, they can tell their own customers that they will need to wait 12 instead of 8 weeks for their roll-down shutter.
At Wilms, they feel it is important to use email marketing
to establish a bond and create trust
. The customers therefore feel there is open communication. That Wilms communicates frequently and fast and shares a lot of information.
This leads to trust and improved customer retention.
"We are pleased with Wilms. I am always kept up to date fast. I don't feel the need to go somewhere else" – this is the kind of feedback they often receive.
They stand out from the competition with
open and especially quick communication
. According to Wim, this is due to Flexmail. "Flexmail is so easy. When our CEO walks in and says we need to send an email to our customers before 3.00 pm, I know I can send it out before 3.00 p.m. (except for the translation, which may take a bit longer)," says Wim.
2. With good internal communication, you retain your employees
As stated earlier, Wilms' choice for internal communication via mailing was triggered by Covid. As 3/4 of their employees are production workers (who cannot work from home), it was essential to keep these people involved and inform them about important updates.
They had the private email addresses of all their employees, so they could communicate with everybody and
involve them at home
as well. Even the partners could and still can read the emails.
Covid was the actual cause of starting all this. We soon realised that it's actually a very rewarding medium and that this email from Wilms, the employer, has value.
Wim gives a nice example to explain this:
From the results, we learned that nearly 90 people had completed the questionnaire. Apart from the fact that the subject is interesting and that many people are interested in health and exercise, Wim called the results spectacular. "If we send an email to 200 people, and nearly half of them not only read it but also complete the form, it is clear that the medium is doing what it should do," Wim says.
3. Know your customer (or get to know them better by asking questions)
I don't think there is any need to waste our breath on this. From this case, we primarily learn that
listening to your customers' needs
is essential. At Wilms, it was due to
their customers' feedback
that they switched to another way of communicating.
It is my experience that people want to have information faster and less information more frequently rather than receiving something from us in a long newsletter four times a year.
Remember that Wilms' customers have indicated they need open and quick communication. What do your customers need?
4. The importance of good data
Communicating relevant information quickly is one thing, but does it get to the right people?
Say they send an invoice to a certain customer tomorrow, but this email is not received because the email address is no longer correct. This is a situation that must be avoided at all costs. Wim indicates that for this reason, it is important to keep their contacts up to date. And they do! How?
Well, because they
synchronise
between Flexmail and Teamleader, their mailing list is updated every two weeks. But that's not all. They
monitor this very closely
. "So, if an email is sent to 1,800 email addresses and there are about 10 bounces, we will trace them one by one, every time," says Wim. This results in a
good quality mailing list, a very low bounce percentage, and a high delivery rate
.
5. A personal approach and a sense of closeness due to segmentation
When Wim focuses on our collaboration, he tells us that he primarily regards the
accessibility, closeness and service
emerging from this as one of the major strengths of Flexmail. Always nice to hear! Coincidence or not, this is exactly the feeling we want to convey to our customers. And what better way to do that than by segmentation?
Besides some basic segments, such as languages and countries, they also segment based on their
representatives
and
classification of customers
. Let us explain.
kind of loyalty programme
, in which customers can be assigned 1 to 4 stars. "For example, we organise a commercial campaign for 3-star and 4-star customers only. So here we use segmentation," says Wim. Only these people should receive a personal email about this campaign.
6. A consistent design generates recognisability
You probably wonder whether these newsflashes always look the same. Wim tells us they work with a template they keep on recycling. This means there is a lot of
uniformity
in their B2B. This is a deliberate choice:
We use quite a narrow header so that people see immediately that it is from Wilms, and then the message in a single sentence in the title (which is immediately underneath). We want to convey this message immediately after the opening, so that they already know whether they need to read on.
Wim's ultimate email marketing tip
Keep it simple!
This is the article in a nutshell, really. But what does it mean? "Taking in information has become much faster, so no one wants long emails," says Wim. "Keep it simple: short emails, the message visible at a glance, and people should know immediately what it is about."
This applies to the subject line, the header and the title. When your customers see the preview of your email, they should also see the message immediately: how much more expensive will my roll-down shutters be? They can then decide whether they want to read the whole message.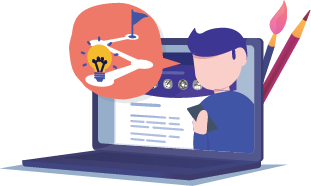 Would you like to try Flexmail?
Design mails tailored to your needs, reach your target group, and learn from the proper results.
Get a free trial now