Of course, we could tell you again that you can make a first impression only once and that email marketing can help you launch your product, but you already know that.

In this article, we share what we believe are the strongest elements of an effective launch email, how to build a logical scenario for the days preceding and following the launch and what you can learn from several examples. Ready? Here we go!
Anatomy of effective product launch emails
Whether you sell a new product, service, webinar or training, you have to be able to launch it well. So let us start with the basic elements of a good launch email.
1. Opt for immediately recognisable branding and design
With a new launch, you want to have the possibility of benefiting from an
already existing sense of trust
and recognisability among your recipients. This is about colours, shapes, style, fonts and logos. Extend the style of your website and ensure your reader can see immediately that you are the sender.
Additionally, you want to choose – and extend –
a specific style for your product
, and it has to be in line with your general branding. If your company chooses an elegant, minimalist design, for instance, your reader expects to get the same feeling with your new product.
Extend this branding to the images, buttons and link colours in your text.
2. Write a smashing introduction (with personalisation)
You have to
sell
your product. This means you have to know exactly which problem your product solves, what happens in your potential customer's mind, and in which terms he or she would talk about your solution.
The body of your email should include the following:
The issue or the problem that your product solves;
The major benefit of your product or service or what you will get out of your training;
Details or properties of your product, such as delivery information, dates, the included accessories, etc;
How to commission your product or how to secure a copy or place;
Information about how long you can use something or how to put it to optimum use;
Information about communication and support.
Is there room for personalisation? Perfect! Make sure, however, that while reading your introduction your recipient thinks: 'This is exactly what I need' and 'I want to know more about this.'
Besides using the first name, you can also work with:
the way in which your contacts ended up in your database;
previous purchases;
specific topics in which they showed some interest previously;
A successful product launch takes more than just an email. We have prepared a
product launch kit
especially for you, free of charge. This kit includes a complete planner, completion sheets and everything you need to choose the right words and get prepared for the launch.
Download your free copy here
3. Arrange for visual support to make your launch stand out
People do not know your product or service yet, and they can be just a little bit too hesitant to decide to buy it. Therefore, they would love to see what their new experience could look like in the clearest possible way. It helps them get a good picture and win them over.
Some examples of how to do this:
How-to videos and tutorials;
Product images or GIFs;
Teasers and copies to browse through (e.g. a chapter or a table of contents of a new book);
Reviews by people who have tested your product or of previous editions.
Always make sure that the colours of your images are perfectly consistent with the rest of your banding. Your product has to be prominent in the image. Pay close attention to the text/images ratio.
4. Close your email with a great call to action and subject
If your email is convincing enough, your reader wants to act. It is essential that you are specific and arouse the reader's interest. Create clear expectations by:
Responding to your customer's needs or expectations
Being specific: When are you going to launch? Is the number of places restricted? What can you mention?
Where does the link take them? What is happening on the next page?
Plan a clear scenario
Your launch may involve more than five emails. Regardless of what you will be launching, these are the five emails that might introduce every milestone in your communication:
First announcement of your new product or service (possibly with an option for testing or making a reservation);
Launch day communication;
Answers to frequently asked questions; tips to increase use;
Last-chance email (opening regular tickets, last chance of reduced rate, last free places, etc);
Motivating people to be present or to use the product/service.
Looking for elements to mention in these five phases? They are mentioned below.
Phase 1: announcements, teasers and pre-orders
Arrange for a teaser to build anticipation. What this email will look like, depends on the strategy you have chosen. Some options:
An announcement specifically intended to provide a glance behind the scenes, possibly with an option to indicate interest;
Give contacts earlier access via a free offer, webinar or challenge, which may then lead to your paying product. Your recipients get a foretaste of your value. Definitely interesting to sell a paying training, book or webinar;
The possibility of pre-ordering.
The object is to make people talk about your product and prepare them, so that they are ready to buy when the moment comes. If you have added links to your email, the click rate will be a good indicator of interest.
Phase 2: communication on launch day
Today you will be opening (virtual) doors. Your contacts can now buy or get their place. Your email communication therefore serves to make them enthusiastic and make them trust you.
Your added value has to stand out. If your copy is adequate, your recipients will have a clear picture of how your product or service will change their work or life and of what they will learn from you. So always see to the following:
An effective introduction;
Respond to benefits and added value;
Provide detailed information about the product, properties and other important information;
Strong visuals and calls to action that support your message.
Phase 3: win doubters over
Many people need some more time. They want to think about your product and see that other people use it. They may wonder if your offer is really something for them.
Possible types of questions:
'Will this work for me if...' I am a beginner, do not have much technical knowledge, have never been there, etc.
'What if...' I do not have a company yet, live in another country, etc.
'I worry that...' I will not have enough time for this, I will not get a return on my investment, etc.
There is a good chance that you already give an answer to these concerns on your website (you should do this). By sending an email that specifically responds to these kinds of concerns, you show that you understand your readers and that you can reassure them that you take their specific situations into account in your offer.
It also gives them an opportunity to contact you about these aspects. Encourage them to contact you and ask questions.
Phase 4: last chance
You will only enter this phase if your stock or the number of places is limited. Don't worry. Many people wait until the last moment to make a decision.
Use the last-chance email to create a clear picture of
what they will miss if they do not take action NOW
. Use social proof in further detail and show as much of your product as possible. If this product is an event, you could respond to the highlights of your line-up, for example. The deadline, too, should be very clear in both your email and your subject.
Phase 5: encourage presence or use
Now that you have received your orders, you have to see to service. You want people to actually show up at the event or use your product. If you satisfy them, they will make a great potential target group to sell your next edition or product to. After all, they know your added value, and you already have much information about their data and interests.
Here, your focus is on
informing
. This includes tips concerning the use of your product, other blogs, webinars and practical information.
Regardless of how you set up your phases and emails, remember that you may be highly enthusiastic about your new product but that your target group does not know anything about it yet. It is your task to enthuse them and to provide them with the right information, so that they will become aware of the added value too and say: 'This is exactly what I need!' So put on your sales hat and start writing.
Do you want to make your message sound even more convincing?
Do not forget your free copy of the product launch kit and get your planner and language style in order.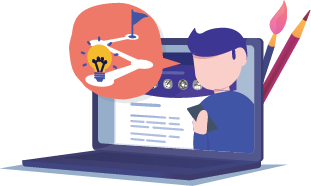 Would you like to try Flexmail?
Design mails tailored to your needs, reach your target group, and learn from the proper results.
Get a free trial now