In the current digital era, in which we are flooded with a continuous flow of content and communication, effective email marketing has become nothing less than an art form. A company that knows the tricks of the segmentation trade is Netflix. This streaming giant owes its success not only to its huge content library but also to its strategic approach to reach its audience through tailor-made and specifically targeted email campaigns. Let us look more closely at the world of segmentation and learn lessons from the Netflix planner.
The power of segmentation
You sit down on the sofa with a nice drink and a snack, ready to enjoy a great film night. You start up Netflix and immediately get recommendations that are perfectly in line with your interests. You only need to choose from the personalised offer.
Perhaps you want to watch the new season of this super fun series, because in the afternoon you received an email telling you the new season is available.
This is the power of segmentation, the cornerstone of the Netflix strategy.
Knowing exactly what viewers want and when they want it.
With more than 230 million subscribers across the world, this is not an easy task. Yet, they manage to draw up personalised messages that link up with the unique preferences and behaviour of their enormous subscriber database.
The 5 steps of Netflix' segmentation strategy
Step 1: behaviour segmentation
Netflix looks at its customers' usage behaviour and uses its findings as a basis for creating segments. They closely analyse the interaction patterns of their subscribers: Which shows or films do they watch? How often do they do this? Which genres do they prefer? With this behaviour data, Netflix can divide its subscribers into groups such as 'Action lovers', 'Lovers of romantic comedies' or 'Documentary fanatics'. By understanding these preferences, they can send specific recommendations that link up with the interests of every group.
Use this Netflix method for your email marketing strategy as well. Have you contacts indicate which interests they have, or check in your reports which links they click or which content they watch. By basing segmentation on their interests, you will be able to send campaigns that are more targeted, and your contacts will receive content they love to read.
Which films and series did you watch all the way to the end, and which did you not? If you have not watched a specific film to the end, Netflix will remind you. Think of the 'Don't forget to finish watching XYZ' emails you receive. This information can also be very useful, by the way. If you watch a film to the end, it is a genre you love watching. If you do not, the film was probably not interesting enough. Using this information, Netflix can find out which genres of films and series you do watch to the end.
Step 2: geographic segmentation
Another segmentation technique Netflix uses is geographic segmentation. Various regions have various cultural nuances and preferences for content. Netflix adjusts its emails to these differences. They can focus on a regional show release, for instance, or a film that has become popular in a certain region.
A good example is the 'Top 10 for your region' email, in which they show you which ten films and series are currently the most popular.
If you have multiple branches, you can send your contacts information about the branch near them. A promotion in a branch 200km away will be useless for your contacts if there is a branch close to them, just around the corner. Additionally, you can use segmentation by language. Send campaigns only in your contact's language to ensure the message can be read without any difficulty.
Besides purely geographical considerations, other factors can be included in geographical segmentation, such as population density, age group, income and education level.
If you use Netflix, you must have noticed that you can create various profiles, including a kid's profile. Here the proposed programmes are adjusted to children.
As a parent you receive many proposals for your children in the kids update, and you can see the top themes they have already watched.
Step 3: segments based on the customer journey
It is crucial to understand where exactly in the process subscribers are. Netflix segments its audience on the basis of the customer journey, such as new subscribers, active users or users who have not opened Netflix for a while. This enables them to send onboarding emails to new users, binge-worthy recommendations to active users and re-engagement emails to dormant subscribers. By meeting subscribers at the point they have reached in their journey, Netflix enhances commitment and retention.
Make a distinction in your segmentation as well that is based on the customer journey. For new contacts, a welcome email is certainly a good idea. Introduce them to your company. Give them the information they definitely need to start using your product or service. Introduce yourself, tell them what they can expect, have them indicate their interests, etc. Maybe new customers have to go through an onboarding process, or perhaps you want to offer a discount to customers who have already made a purchase.
There are several possibilities to segment on the basis of the customer journey. Use it in your strategy to make your communication more personal and adjust it to your recipients' needs and wishes.
To segment the huge amount of data easily, Netflix assigns
personas
to all users. Every persona follows its own customer journey, to which Netflix responds. In this way, Netflix can send relevant content to the right contacts.
To get to know more about your contacts, about what they are looking for and what they can expect, there is no better way than simply asking them. Make a survey to get to know them better and use this data to make your personas.
A closer look at the customer journey is indispensable, but personas are indispensable too. They enable you to understand what your contact expects, and this allows you to respond to this and send them the most relevant messages.
Step 4: personalised content recommendation
Netflix' personalised content recommendation system is legendary. They use the power of AI and machine learning to analyse their users' watching habits. It helps them propose shows and films that link up with every viewer's individual taste. In the same way, their email marketing uses this to send hyper-personalised email campaigns. This level of personalisation enhances the users' commitment and ensures that they return to the platform.
When you know your contacts' interests, you can send them personalised content. You can do this by sending various campaigns to various target groups, but also by adjusting the content of your message to your contacts' interests via Dynamic content.
If you create a Netflix profile, you will also be asked which genres you like. This is an interesting introduction to you, and the films and series that will be proposed next will be based on the genres you have indicated. After a while, these proposals will be adjusted to your behaviour as a viewer. Furthermore, they also show you the percentage by which a programme is in line with your interests.
How do they know exactly what you prefer to watch? They just ask. You can indicate this directly in the Netflix app. In addition, they send you emails asking you whether or not you liked the content you have just watched.
Step 5: testing and optimising
Netflix tests and optimises its email campaigns continuously using
A/B testing
. They experiment with various subject lines, the place of the content in the message and calls to action to see what is most effective with each target group. By analysing the result of this data closely, they can refine their strategy. They see to it that their campaigns continue to include valuable content to keep stimulating their users' commitment.
In the reports, you can find much information about your email campaigns and your recipients. You can find the open and click ratios, which are very important to give you an idea of the success level of your campaigns and the bounce rate that indicates how 'pure' your database is. An A/B test as conducted by Netflix is also worth trying. Which subjects or calls to action generate more clicks or opens?
The content calendar for inspiration
The ideal tool for finding inspiration is your content calendar. It is full of special days that you can use in your campaigns. Netflix, too, likes to use this, as it is the ideal way to promote their public holiday-related programmes, such as Christmas films or horror stories you can watch in this period.
Are you not using a content calendar yet? We help you get started quickly with our
ultimate email marketing content calendar
. In this calendar, you can find more than 500 ideas on which you can base your email content.
If Netflix can do it, you can do it too
With its millions of users, Netflix collects a huge amount of data, so for them it is essential to segment correctly.
There is no reason why you cannot do the same. We give you some tips for the next time you set up an email campaign:
Segment your contacts on the basis of comparable interests and purchasing habits to use the information you have in the best way possible.
Make different journeys for different target groups.
Create personas to understand your contacts better and be able to divide them into relevant target groups more easily.
Send relevant content only, without spamming your contact's inbox. The idea is that you attract inactive users again and increase conversions.
The use of data-driven personalisation in your messages ensures that your contacts have the feeling that the email they receive has been made for them exclusively.
Be creative and dare to take risks. Netflix would not be where they are today if they had sent boring emails to their entire database.
Make your messages skim-friendly. You do not have much time to catch your contacts' attention. If you use a clear, short message and always use the same layout, your contacts immediately know where to look for the information they need and do not want to miss.
Use animated GIFs to catch the attention. By using GIFs, you can create interactive content that is relevant and interesting. Additionally, you will also find they increase the click rate.
Write a clear title that catches the attention immediately. Netflix does this by personalising the subject and ask you a clear question or even make you a proposal.
Netflix is an excellent example of how personalised content can improve the recipients' satisfaction. At Netflix, they know exactly which series and films their users love to watch. They use this information to make adjusted – highly personal – recommendations. In this way, subscribers can find the content they like without having to go through many lists. As a result, users always receive the newest and best content. This level of personalisation is crucial for online users. It improves their experience and makes it more likely that they will return to the Netflix app in the future.
If you want to know how to optimise segmentation and how to follow the example of Netflix, read our previous blog about
segmentation in email marketing
.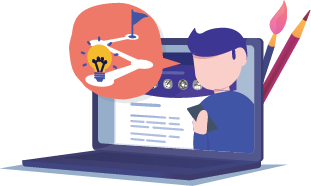 Would you like to try Flexmail?
Design mails tailored to your needs, reach your target group, and learn from the proper results.
Get a free trial now