When you decide to use email marketing to promote your business, you want to ensure that your investment pays off. In this blog, the various metrics displayed in the campaign report are discussed in more detail, as well as what they reveal about the performance of your newsletters.
Depending on the target group you have chosen, the topic of your newsletter and the moment at which you sent your email, these figures may widely differ. Therefore, we always need to look at the whole picture from a distance.
Take your welcome email, for instance. The first email your new subscriber receives, can have a major impact on your general results. On average, they come in for seven times more opens than regular newsletters.
To be able to make a correct analysis, you will need to understand what each of these metrics specifically means, how metrics influence one another, and which factors have the biggest influence.
Metric 1: open rate
The open rate shows how many recipients have opened your email. In email marketing, this is an important metric, as it is often the first barrier that needs to be overcome before recipients actually get to your content.
Your open rate is calculated by dividing the number of unique email addresses that have opened your email by the total number of emails that could be delivered successfully. If you have delivered 10,000 emails, and 2,000 people open your email, the open rate will be 20%. For a normal newsletter this is an excellent percentage.
💡 From a technical perspective, Flexmail knows that an email has been opened when the recipient downloads images (whether or not automatically) or when a link is clicked. This means that a margin of error should be taken into account.
If you send an email to a segmented target group or as part of an automation (e.g. a confirmation or welcome email), the open rate will be considerably higher than 20%.
The more specific your content, the better your result.
When evaluating your open rate, you need to look at the individual campaigns and their characteristics but also at how they perform in the course of time. This will give you a good indication of the engagement of your database.
If your average open rate starts to decrease, there could be several causes:
Sending too many emails (information overload);
Sending too few emails (your recipients have forgotten who you are or why they have subscribed);
Sending generic content that is not in line with your recipients' interests.
Metric 2: click rate
The click rate refers to the people who were triggered by the content to click a link or a call to action. They actually do something because of your email, so it is important that you include links in your email.
Your click rate is calculated by dividing the number of unique email addresses that clicked by the number of opened emails. If 2,000 people opened your email, and 100 of them clicked through to your website, the click rate is 5%.
If you feel that the click rate needs a boost, consider the following:
Invite your readers to click through by offering them value, such as discounts, a free download, or a relevant case or article.
Make sure your content arouses sufficient interest to make your recipient actually click through. The combination of title, introduction and call to action should trigger your reader sufficiently.
Make sure your design looks good on desktops and mobiles.
Make sure your email looks reliable and professional with an attractive template.
Segment your target groups, so that you only send your email to those people who are really interested in the content.
Use a good balance between text and images. Your email should be understandable, also to people who do not download the images.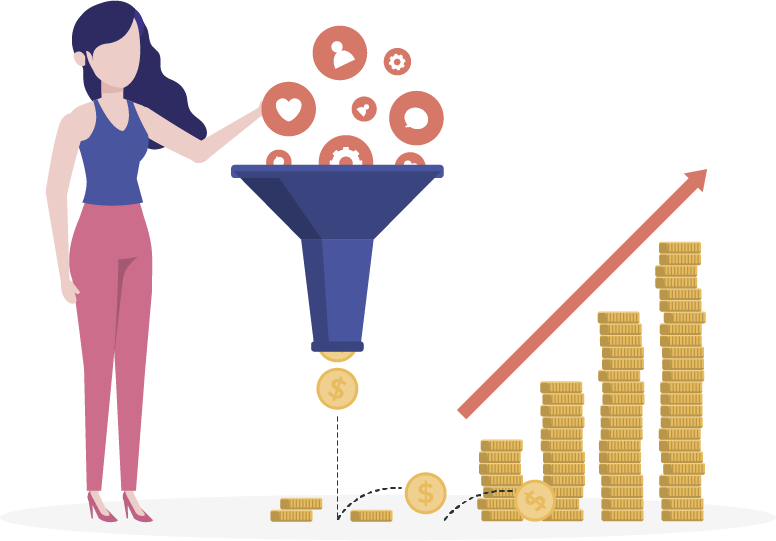 Metric 3: total opens and clicks
As you may have noticed, we only look at the unique number of opens and clicks in the two metrics above. There is a third metric, however: the total number of times your email was opened and your links were clicked.
Why is this metric also important? When you send Betsy an email with important information, such as a welcome or conformation email, and Betsy opens this email five times, these five opens will be included in the total number of opened emails. The same applies to the number of clicks.
This difference is useful. We are glad that Betsy considers the information so important that she kept on checking the email, or that the content interested her so much that she clicked several links. It says something about your most highly committed contacts and about how important the content was for your specific target group when peaks occur.
Metric 4: conversion rate
If you want to increase the potential of your click rate, you will have to calculate the conversion rate. In this way, you do not only know how many people clicked your links but also how many of those website visitors actually took the action you wanted them to take. This could be an order, completing a form, or visiting a certain web page.
To calculate the conversion rate, you divide the number of people who took the desired action by the number of delivered emails, and then you multiply the result by 100.
To find the first figure, you need the conversion targets in Google analytics. It is also a way to see how other marketing channels (e.g. social media) perform in comparison with your emails.
Every email will have a specific object. By looking at your conversion rate too, you know whether your email actually achieved your object.
To improve your conversion rate, it is essential that your emails are sufficiently interesting for your visitors that they click through (without being misleading). Next, however, the landing page should be optimised in a way that your visitors are motivated to proceed to conversion. So the people who click through should not be led to your homepage.
Reduce every barrier as much as you can.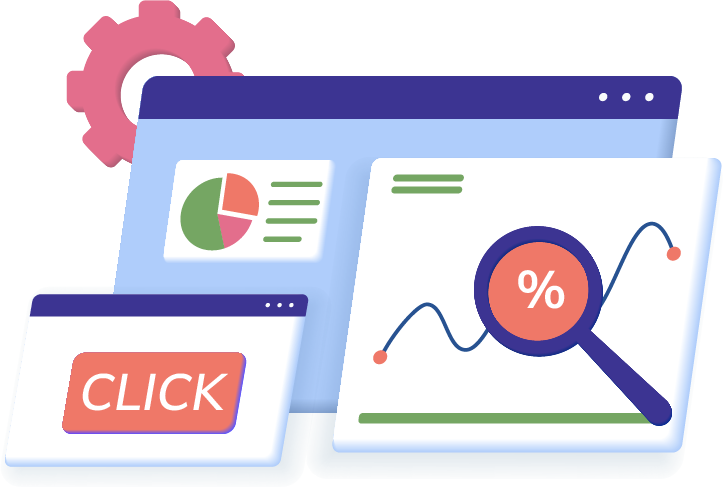 Metric 5: delivery rate
The delivery rate of your email campaign reveals how many emails could actually be delivered to your recipient. Do not forget to monitor this, for it gives an indication of the 'health' of your database and the accuracy of the data it includes. It also has a major impact on your sender reputation.
Your delivery rate is calculated by dividing the total number of delivered emails by the total number of emails sent. If you send 10,000 emails, and 9,800 could be delivered, your delivery rate is 98%.
Metric 6: bounce rate
Until now, we have discussed metrics that should be as high as possible. Your ideal bounce rate, however, is as low as possible. It is the opposite of your delivery rate. Your bounce rate indicates how many emails could not be delivered, possibly because the email address no longer exists, or because the recipient has marked your email as spam.
Spam filters and email servers also look at your bounce rate. Here are some tips to keep your bounce rate low:
Use the proper bounce settings to clean up your bounces.
Make sure your unsubscribe link is clearly visible.
Send emails on the basis of interests, so that your readers can indicate what they want to receive from you.
Send emails from your own domain (not from Gmail or Hotmail) and use authentication.
Use a regular sending frequency, so that you can detect bounces in time and your database will remain up to date.
Ensure you collect a valid opt-in from every subscriber.
Metric 7: spam complaints
The number of spam complaints is another figure you want to keep as low as possible. It is provided at the bottom of your campaign report. It refers to people who actively indicate in their email client that they regard your email as spam.
Gmail uses 0.1% as an acceptable spam complaint rate, i.e. one spam complaint for every 1,000 emails.
To minimise the number of spam complaints, you should ensure that:
your emails are relevant;
you send emails to people who have actively given their consent to this;
you use a regular sending frequency to remain on top of your contacts' mind;
your unsubscribe link is clearly visible and easy to handle, because unsubscriptions are not included in the delivery rate. If they do not want to receive anything any longer, let them go.
Metric 8: unsubscribe rate
This is the percentage of people who unsubscribe via the unsubscribe link in your email. It is a figure we want to keep as low as possible, of course.
A 0.5% unsubscribe rate is good for an email campaign. If your unsubscribe rate is higher, you may have to do something about it. Relevance of the content for your various target groups is the most important parameter here.
Unsubscriptions are not bad by definition. They keep your database clean and have disappeared before they can have a detrimental effect on your other metrics.
Metric 9: list growth
In order to get sufficient return from your email marketing, you need to collect a sufficient number of new contacts. After all, with new contacts you have the best chance of getting new conversions. They have demonstrated enough commitment to leave you their email address.
So keep an eye on your list growth and make sure you have a strategy in place to attract new subscribers. You can do this by promoting your newsletter and by asking people for their email address at the right moments.
This is how you can measure your list growth:
new contacts – (unsubscriptions + spam complaints) / total number of contacts in a certain period.
Metric 10: campaign ROI
Your campaign ROI reveals something about the general return of your email campaign. Has it brought in enough money?
To find out, you have to measure the value of a conversion and compare it with the costs of your email marketing (your subscription). You can calculate this per campaign but also on a monthly basis.
Metric 11: link map
In your campaign report, you can also click through to your link map. This is a visual representation of your email, in which you can find per link how this link has performed. It gives you an indication of which content was the most interesting but also whether your contacts could find your links in your design.
Examples and final tips
Tailor your content to your object
Did you promise your subscribers a free download in exchange for their email address? See to it that every element in your email is adjusted to downloading this freebie. Here you can see it in the title, and there is a clear call to action. Keep your emails brief, clear, and to the point.
Tailor your content to your target group
If you want to promote a certain offer, be critical about whom you send the offer to. If you know recipients have children, you can send them the new children's collection. The email below includes clear calls to action to various product categories – so the parents do not need to look for them, and I know which model they like best. The bar at the top is an extra motivation for your readers to click through. It will give your click rate a boost.
Collect more information for more relevant emails
The more data you have at your disposal, the more you can personalise your content, which will have a positive effect on your open, click and conversion rates. The email below is a clear illustration of why you should share more information about yourself. The subject responds to this in a clever way and also indicates it will not take long. So if you do not have the right data for personalisation yet, think of smart ways to collect them.
Subject:
Personalised skin care with only three questions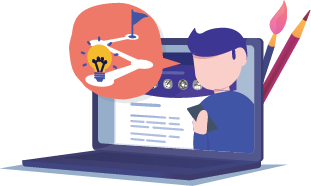 Would you like to try Flexmail?
Design mails tailored to your needs, reach your target group, and learn from the proper results.
Get a free trial now