Coming soon


Send emails

people read

Successful email communication responds as directly as possible to the needs and interests of your contacts. Who knows your recipients best? They themselves, of course! That is why we make it as easy as possible to find out what those interests are.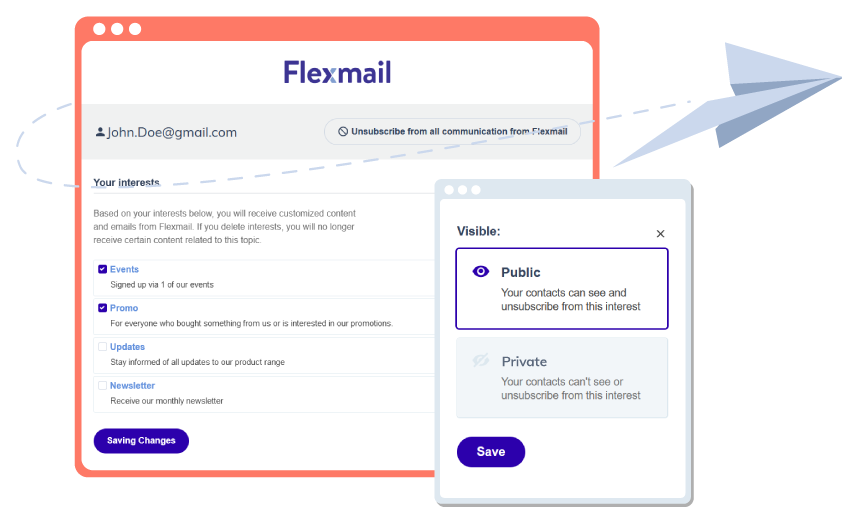 People go to your unsubscribe page
for a reason
Not everyone wants to receive nothing at all. Often, what they want is fewer - or different - emails. If unsubscribing is the only way to receive fewer emails, most people will opt for that. Give them insight into why they receive specific mails and let them indicate what is important to them.
Bring your
consent registration

to Flexmail

Centralise important info about your contacts under interests. Provide your contacts with more context through a clear description in their own language. They'll know exactly why they receive specific mails and you drastically reduce your unsubscribes.


More about the unsubscribe pageComing soon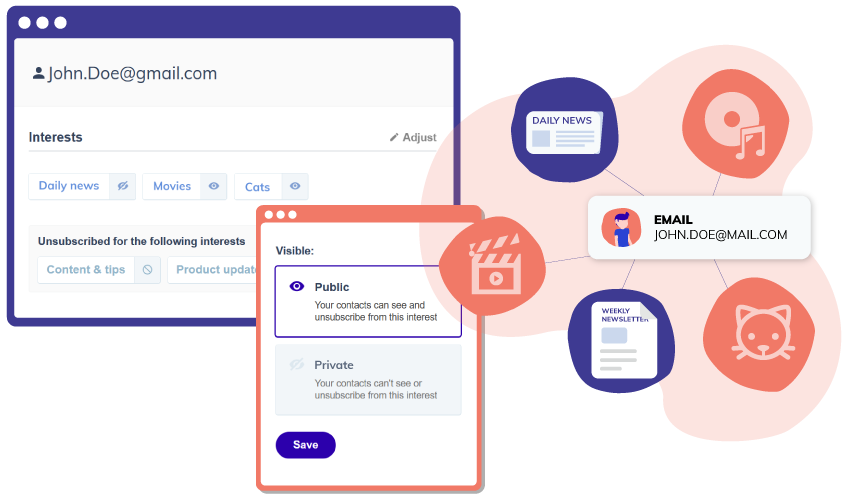 Define your
public and private interests
Give your contacts control over the emails they receive from you. Complete their profiles by adding important information yourself. For example: attended webinars, purchased products or temporary tags.
Effective
interest-based targeting
The better you understand your target group, the better your message will stick. Use your interests to build new audiences. Import your interests to build a foundation, base your automation scenarios on them or sign your readers up for specific communications based on the form they filled out.
Your profile page in
your own brand style
Personalise your public pages with your own brand style for recognition and trust among your recipients. Add your own colours and images to hit the right note every time.


More about custom brandingComing soon
Ready to try
Flexmail

?

Register your free trial account and try out our features for 30 days. Design interesting emails, build your audiences and send your contacts emails that respond to their unique situation. Our support team will help you get the best possible start.

Free trial

No Credit Card required Easy set-up 30-day trial version